CrystalLink Audio
Audio Extender over CATx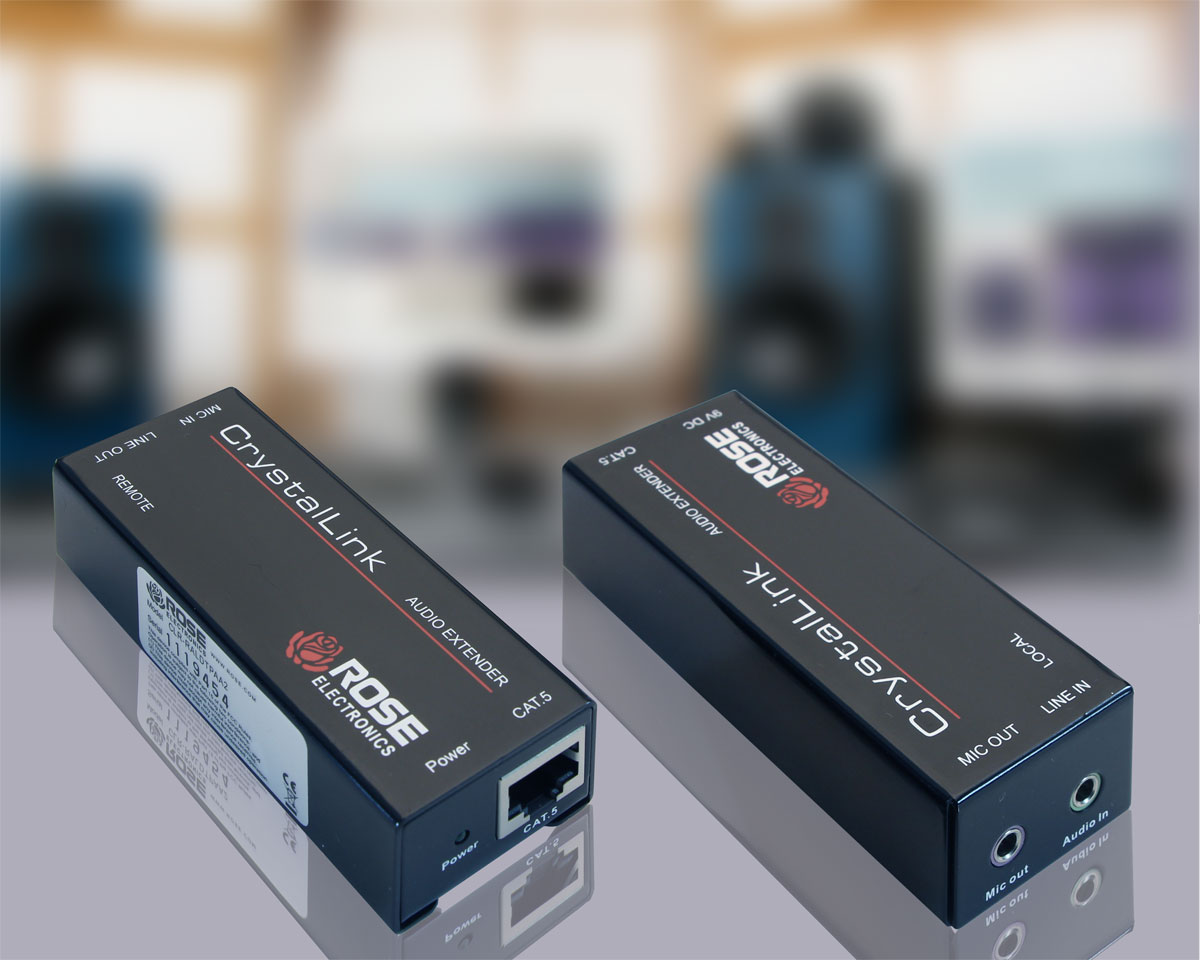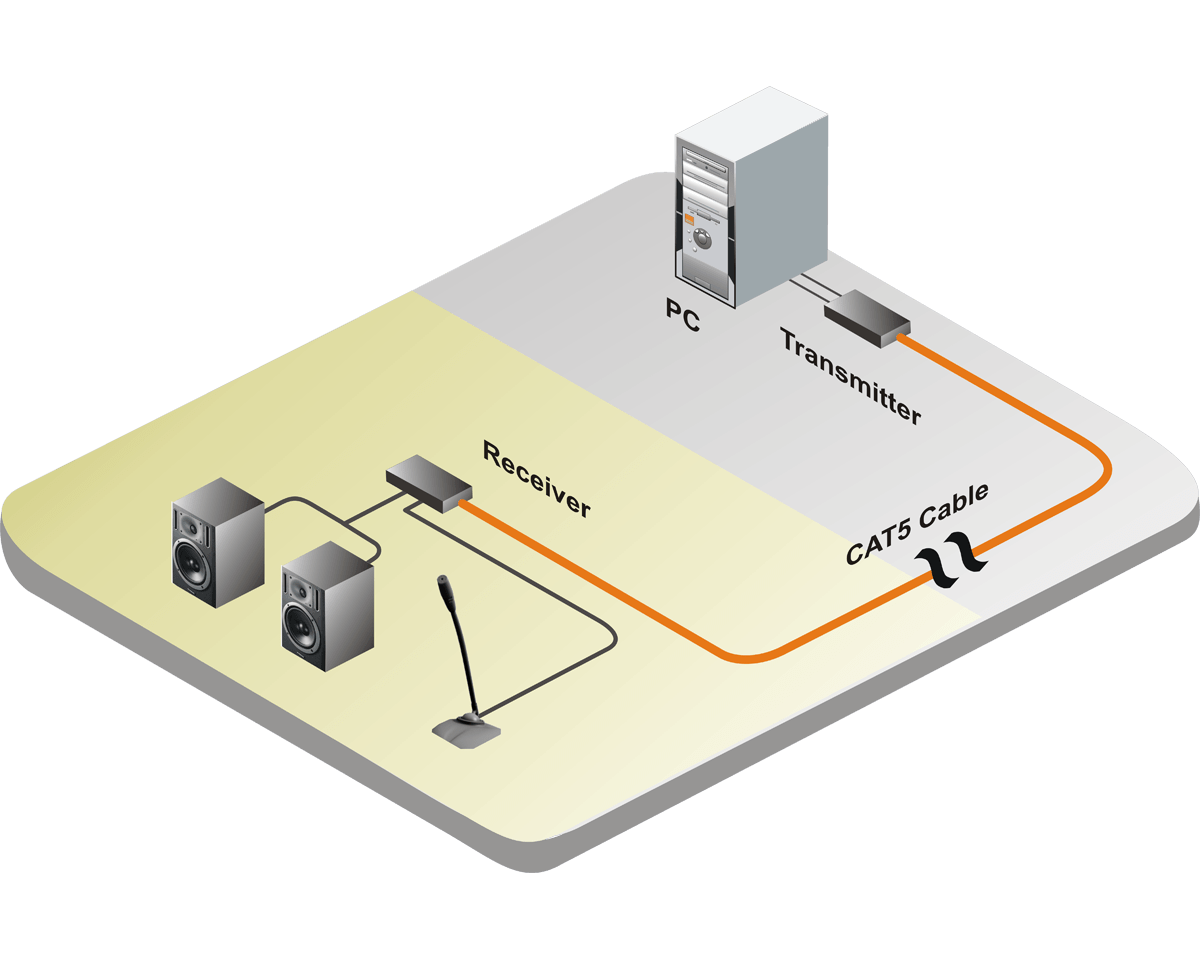 Extend stereo audio and a microphone up to 1,000 feet over a single CAT5 cable
Supports multimedia speakers, headphones, or earphones
Built-in microphone preamplifier
Adjustable microphone gain
Supports condenser or dynamic microphone inputs
OVERVIEW
CrystalLink Audio Extender from Rose Electronics is the perfect addition to systems that require extending audio away from a PC. Headphones or multimedia speakers may be directly connected to the receiver. The receiver unit has a built-in microphone preamplifier, which allows adjustment of the microphone gain via a potentiometer on the bottom of the receiver.
Installation is straightforward.
1- Connect the transmitter's Mic Out and Line In ports to the corresponding ports on your PC or audio source using a 3.5mm male-to-male audio cable. The jacks are color coded to PC standard: connect pink to pink and green to green.
2- Connect a Microphone to the receiver's Mic Input port (pink) and a set of speakers to the Line Out port (green).
3- Connect the local unit to the remote unit with up to 1,000 feet (300 meters) of CAT5 cable.
4- Connect the power adapter to the local unit's +9VDC power jack and a power source.
Only one power adapter is needed to power both the transmitter and receiver. The extender can transmit audio up to 1,000 feet over CAT5 cable. CrystalLink Audio Extender can be combined with Rose Electronics Audio Splitter product line to extend an audio source to several remote locations.
SPECIFICATIONS
Dimensions (W x D x H)

0.87" x 3.62" x 1.34" (22 x 92 x 34 mm)

Weight

0.14 lb (0.06 kg)

Power

100-240 VAC 50-60Hz

One external adapter, +9V DC, 300ma, 2.7W

Receiver powered by transmitter

Audio

Response: 10Hz to 25Khz (1Vp-p/10k )

Impedance: 10Kohm

Audio In: 1.8Vp-p

Mic In: 0.5Vp-p

Microphone gain: 0-15dB

Distance

Up to 1000' (300m)

Connectors

Transmitter:

Line in: 3.5mm jack

Mic out: 3.5mm jack

Link: RJ45 jack

Power: Barrel jack

Receiver:

Line out: 3.5mm jack

Mic in: 3.5mm jack

Link: RJ45 jack

Controls

Receiver power: Green LED

Microphone gain: 0-15dB potentiometer

Environment

Operating temperature: 32°F–122°F (0°C–50°C)

Storage temperature: -4°F–158°F (-20°C–70°C)

Relative humidity: 20%–80%, non-condensing
PART NUMBERS
Product Part Number
Description
CLK-ALDTPAA2
Audio extender, complete kit. transmitter, receiver, and power adapter
Transmitter
CLT-LALDTPAA2
Audio transmitter unit, 1xRJ45 CATx interface, 3.5mm audio jacks
Receiver
CLR-RALDTPAA2
Audio receiver unit, 1xRJ45 CATx interface, 3.5mm audio jacks