CrystalView EX DVI
CATx Extender • DVI • USB 2.0 • 330' (100m)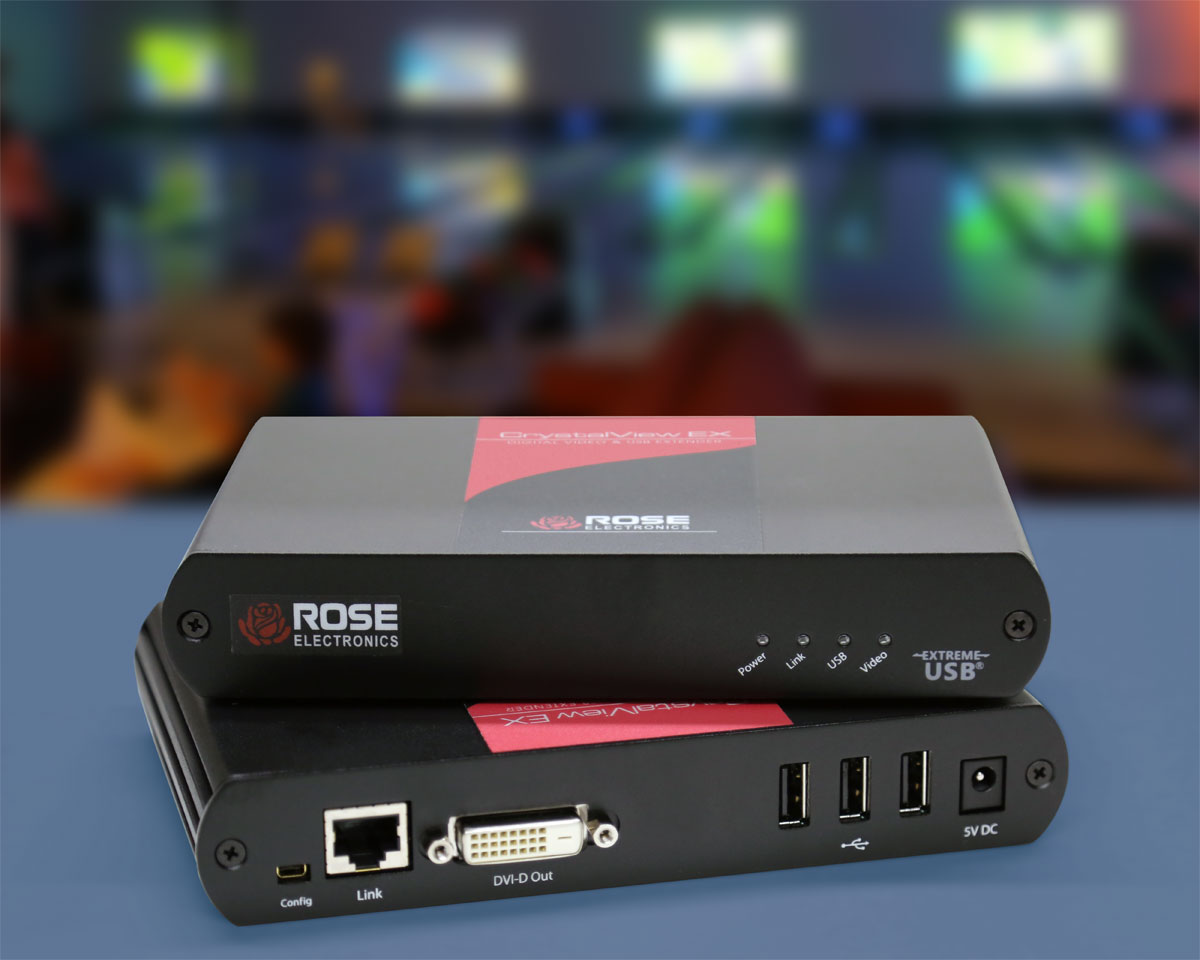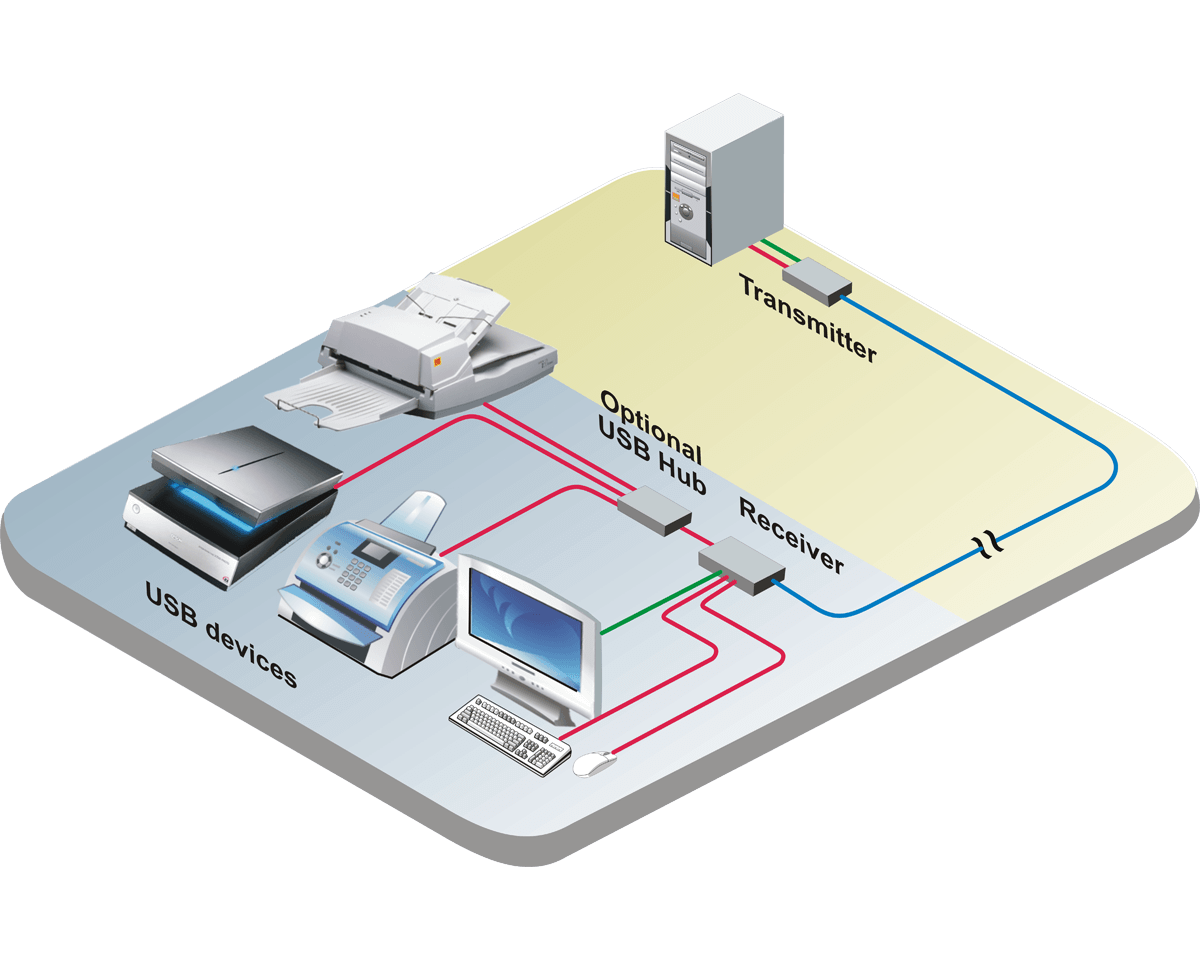 Extends DVI video and USB 2.0 up to 330' (100m)
Uncompressed video resolution up to 1920 x 1200
Three remote high speed USB 2.0 device ports supplying 500ma power
USB 2.0 throughput of up to 40 Mbps
Use USB keyboards, mice, printers, scanners, flash drives, audio devices, touch screens, web cams, game controllers, and others
OVERVIEW
CrystalView EX DVI is a superior method for extending your uncompressed DVI video and USB peripherals. The unit supports a resolution of up to 1920x1200 at up to 300 feet (100m) away over CATx cable. The product consists of a set: a transmitter connected to the DVI and USB ports of your computer and a receiver connected to your LCD monitor and USB peripherals.
The receiver has three high speed USB 2.0 ports built in. Each port can support high output current devices of up to 500ma. Up to 30 USB 1.1 or 2.0 devices can be connected to the receiver unit using USB hubs. Typically the three USB Type A connectors on the receiver are connected to a USB keyboard, USB mouse, and a USB hub.
The CrystalView EX DVI is compatible with a wide variety or graphic cards, monitors, USB devices, and operating systems. The product supports audio-over-USB2.0, with the use of a USB-to-Audio adapter on the receiver unit.
SPECIFICATIONS
Dimensions (W x D x H)

6.9" x 4.4" x 1.18" (175 x 112 x 30 mm)

Weight

2.0 lb (0.9 kg)

Power

100-240 VAC 50-60Hz

External adapter: Transmitter: +5V, 3A grounded

External adapter: Receiver: +5V 3A grounded

Transmitter: 15W

Receiver: 15W

Resolution

DVI: uncompressed 1920x1200, 24 bit color

USB2.0 throughput: up to 40Mbps

Distance

DVI 1920x1200: 330' (100m)

Connectors

Transmitter:

DVI video: DVI female

USB host: USB Type B

Link: RJ45 jack

Power: Barrel jack

Receiver:

DVI video: DVI female

USB device: Three USB Type A, 500ma each

Link: RJ45 jack

Power: Barrel jack

Controls

Unit power: Green LED

Link active: Green LED

Video active: Green LED

USB status: Green LED

Environment

Operating temperature: 32°F–104°F (0°C–40°C)

Storage temperature: -4°F–158°F (-20°C–70°C)

Relative humidity: 20%–80%, non-condensing
PART NUMBERS
Kits (transmitter, receiver, and power supply)
CRK-1DTXT-EX6
KVM Extender, DVI, USB 2.0, CAT5
Cables
Description
CAB-DVIDMMnnn
DVI-D MM cable
CAB-USBABnnn
USB type A/B cable
Rack Mount Kit
Description
RM-CRV-EX/19
19" Rack Mount for standard size server and equipment racks (fits 2 units)
RM-CRVEX/PLT
Cover plate for rack mount