CrystalView Exact
CATx Extender • DisplayPort 1.2a • USB 3.0 • 330' (100m)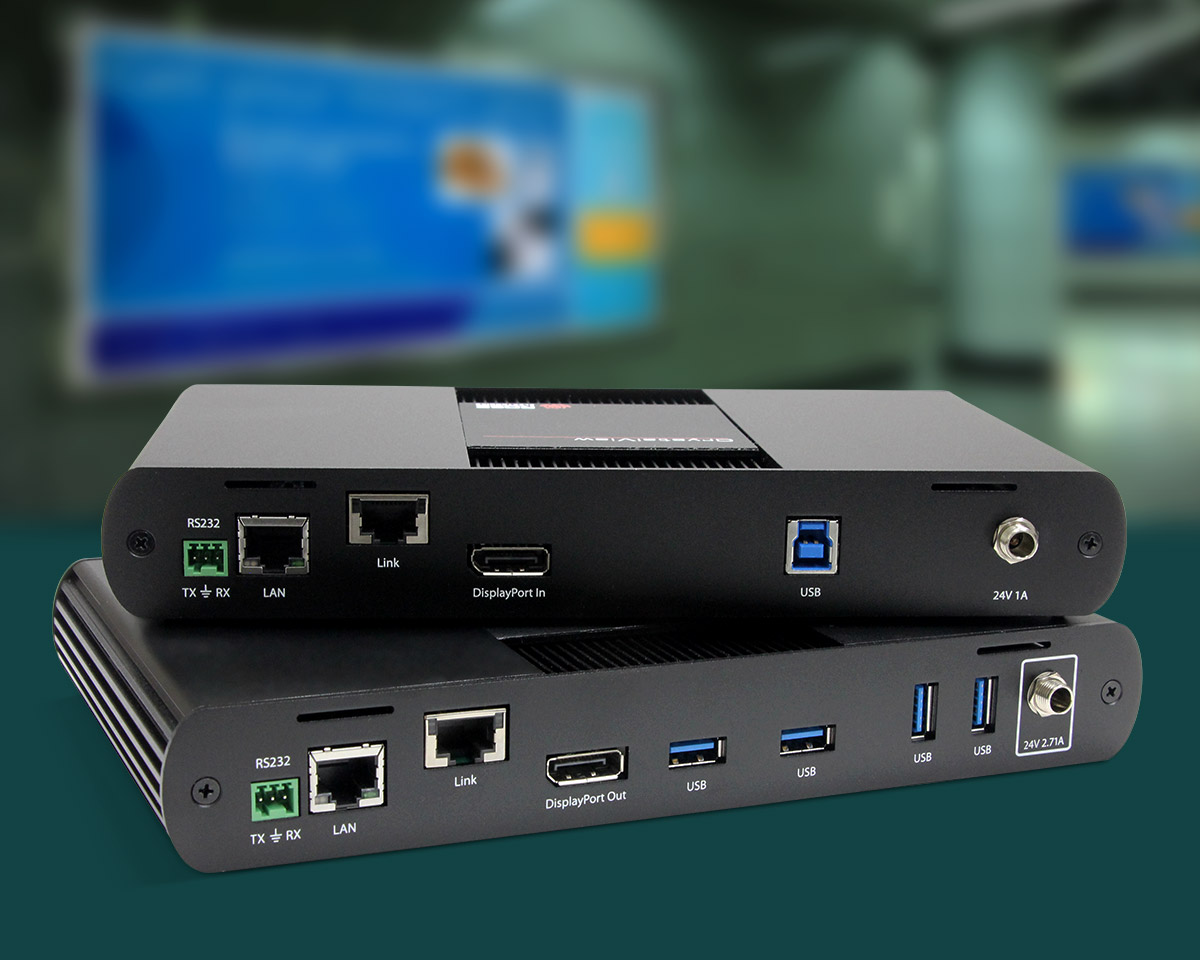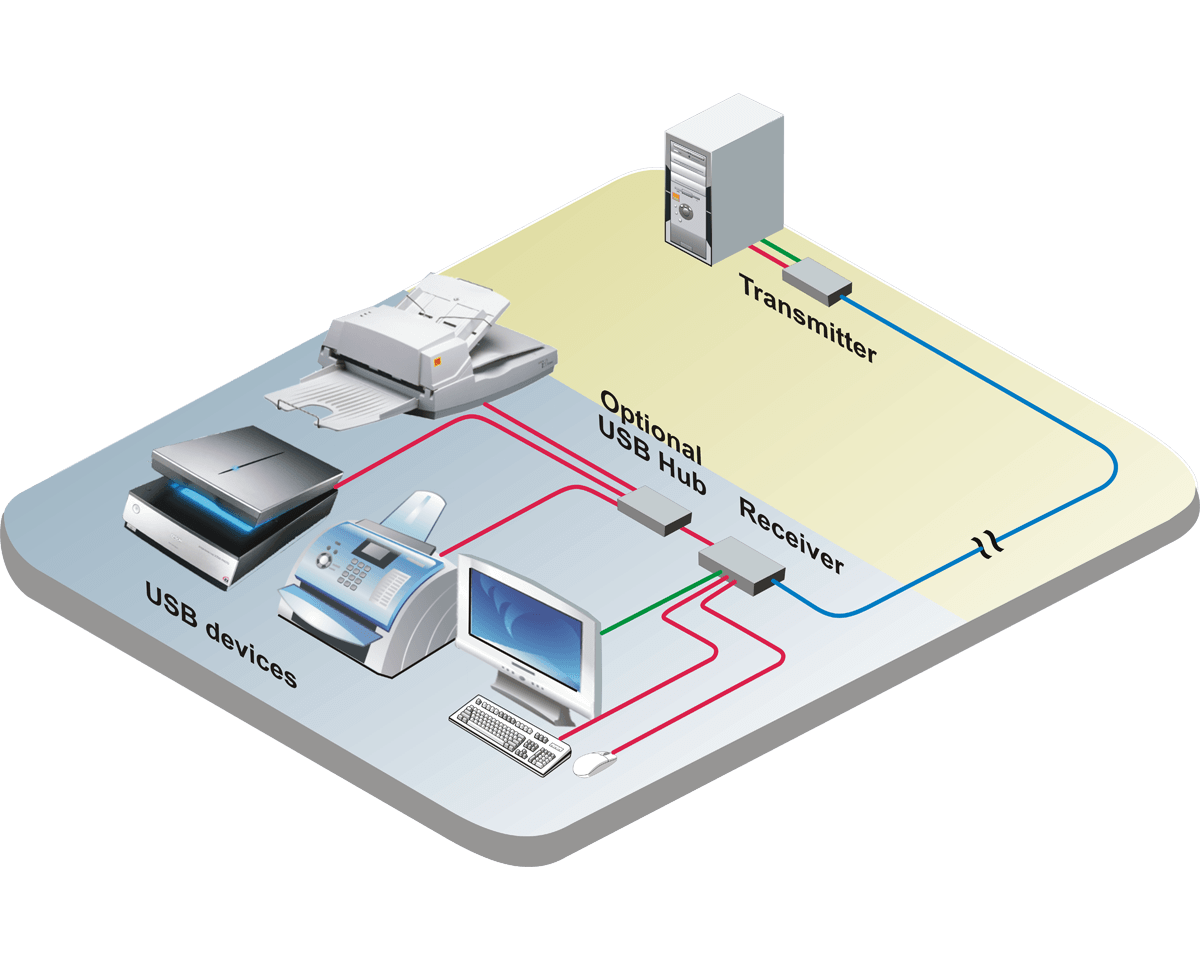 Extends DisplayPort 1.2a, USB 3.1/2.0/1.1, RS232, and Gbit Ethernet on a single CAT6a/7 cable up to 330' (100m)
Resolutions up to UHD 4K, 3840 x 2160 @ 60Hz
YCbCr 4:4:4 and RGB color support up to 10 bits per channel
Embedded 2 Channel DisplayPort audio
USB 3.1 Gen 1 data rate up to 5Gbps
Provides simultaneous, transparent USB extension for USB 3.1, 2.0, and 1.1 devices at full bandwidth
Four USB-A Gen 1 ports on the receiver unit, each supplying 1.2 Amp (6W) power
Expandable up to 30 USB ports with additional USB hubs
Industrial grade, built with an aluminum enclosure and locking power connector
Ethernet 100/1000 pass-through channel for connecting remote network-enabled devices
Bidirectional RS232 channel supports serial devices and controllers at baud rates to 115,200
Direct point-to-point connection
True plug and play; no software drivers required
Works with all major operating systems: Windows®, MAC OS™, Linux®, and Chrome OS™
Automatic EDID detection and synchronization
FCC and CE compliant
Optimum performance with CAT6 and CAT7 (solid core) UTP/STP cabling
Use USB keyboards, mice, printers, scanners, flash drives, audio devices, touch screens, web cameras, game controllers, and others
OVERVIEW
The CrystalView Exact extends Ultra HD DisplayPort 1.2a video along with USB 3.1, 2.0, and 1.1 up to 330 feet (100 meters) over a single Cat6a/7 cable. Two-channel audio embedded in DisplayPort, Ethernet pass-through, and bidirectional RS232 are also transported.
This point-to-point extension system consists of two parts with a transmitter extender unit located near a host computer and a remote receiver extender unit near a display and USB peripherals. All signals are aggregated and transmitted between the transmitter and receiver units over a single CAT6a/7 cable. A minimum grade of Category 6a cable is required.
Image quality is remarkable with DisplayPort 1.2a delivering visually lossless 4K60 video resolution with YCbCr 4:4:4 and color support up to 10 bits per channel. The receiver unit includes four USB ports, each supplying 1.2A (6W) of power. Directly connect USB devices simultaneously at full bandwidth or attach self-powered USB hubs to expand the USB port count up to 30. The Ethernet pass-through channel allows remote connection of network-enabled devices. The RS232 channel can be utilized for RS232 enabled devices or for command and control applications.
Installation of the CrystalView Exact extension system is simple with plug-and-play setup, and it's compatible with all major computer operating systems. Software drivers are not required.
The CrystalView Exact is an industrial-grade product built with aluminum enclosures and locking power connectors. Common applications include industrial control/HMI, video production, ProAV, medical imaging, conference rooms, and interactive digital signage.
SPECIFICATIONS
Dimensions
(W x D x H)

9.1" x 5.4" x 1.3" (232 x 137 x 33 mm)

Weight

Transmitter: 2.03 lb (920g)

Receiver: 2.18 lb (990g)

Packaged: (Extender set with power adapters): 6.5 lb. (2.95kg)

Power

Transmitter Power Adapter:

Input: 100-240VAC, 50/60Hz; Output: 24VDC, 1A

Receiver Power Adapter:

Input: 100-240VAC, 50/60Hz; Output: 24VDC, 2.71A

Resolution

Max Resolution: 3840x2160 @ 60Hz

Color: YCbCr 4:4:4 and RGB color (6, 8, 10 bit) support

Audio

Two channel DisplayPort audio

USB

USB Device Support: USB 3.1 Gen 1, USB 2.0, USB 1.1

USB Speeds: SuperSpeed 5Gbps, high-speed, full-speed, low-speed

USB Bandwidth: Up to 5Gbps

USB Host Compatibility: xHCI (USB 3.1), EHCI (USB 2.0), and OHCI/UHCI (USB 1.1)

USB Host Support: Up to three self-powered USB hubs

Maximum USB Devices: 30

Current per USB Device: Up to 1.2 Amp (6W)

OS Compatiblity

Windows®, Mac OS X™, Linux®, ChromeOS™

Distance

Cable Category: CAT6a/CAT7 solid core, UTP, STP, or FTP, depending on installation environment

Cable Termination: RJ45, using TIA/EIA T568A or T568B

Maximum Length: 330 feet (100m) (Use of patch cable may reduce the maximum length)

Connectors

Transmitter:

1 x DisplayPort 1.2a connector

1 x USB 3.1 Gen 1 Type B

1 x RJ45 link port

1 x RJ45 100/1000 Ethernet port

1 x 3-pin terminal block for RS-232

1 x locking power jack

Receiver:

1 x DisplayPort 1.2a connector

4 x USB 3.1 Type A female

1 x RJ45 link port

1 x RJ45 100/1000 Ethernet port

1 x 3-pin terminal block for RS-232

1 x locking power jack

Controls

LED indicators: Power, Status, Link, Video, USB 2, USB 3

Environment

Operating temperature: 32°F–104°F (0°C–40°C)

Storage temperature: -4°F–140°F (-20°C–70°C)

Relative humidity: 20%–80%, non-condensing
PART NUMBERS
| | |
| --- | --- |
| CRK-1DTXU321DP | CrystalView Exact KVM Extender Set |
| CRV-SLDTXU321DP | CrystalView Exact KVM Transmitter Unit |
| CRV-SRDTXU321DP | CrystalView Exact KVM Receiver Unit |
| RM-UD/CLK321 | "L" bracket kit for shelf, wall, or under desk (Not for 19" rack) |