RackView Switch
KVM Rack Drawer and Switch • 17"/19" LCD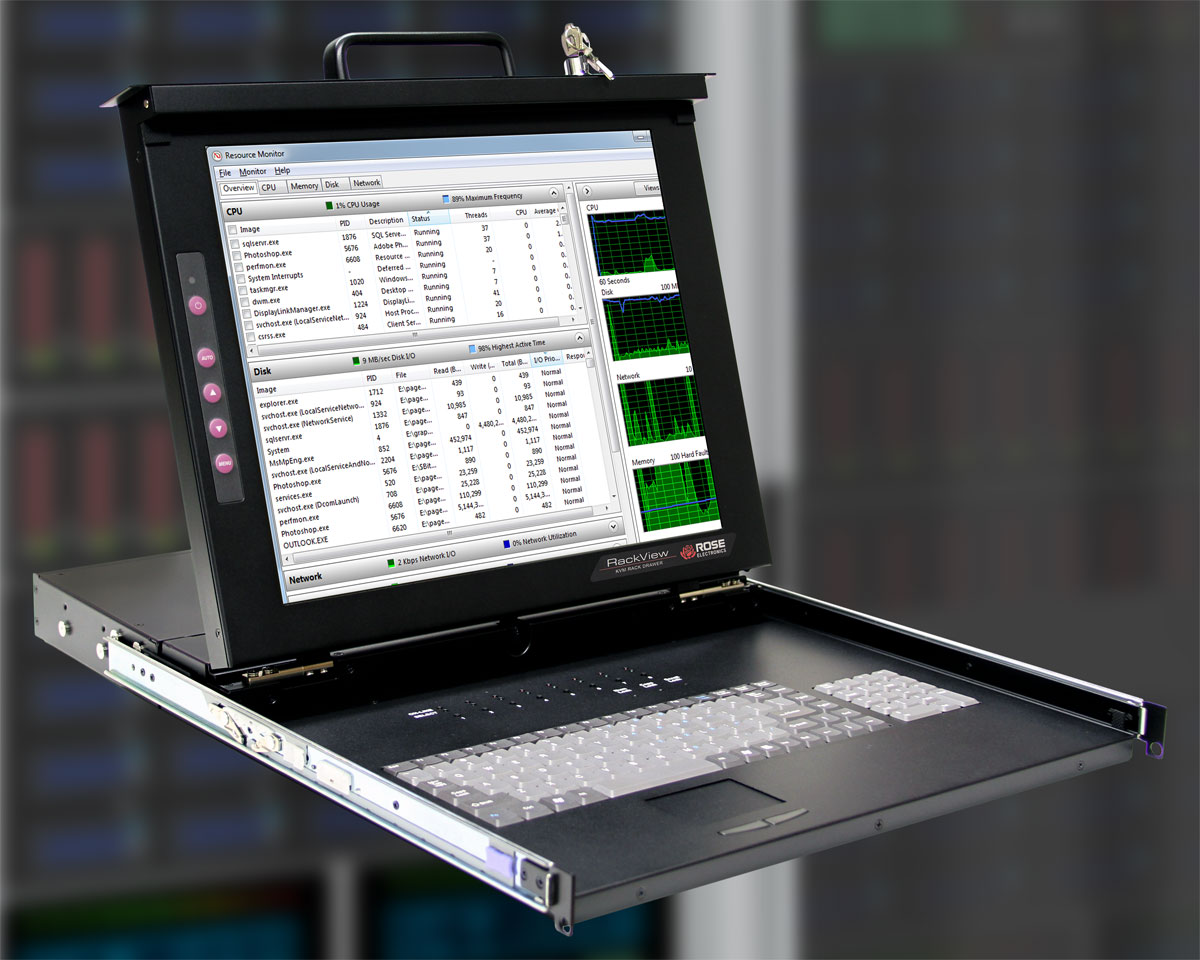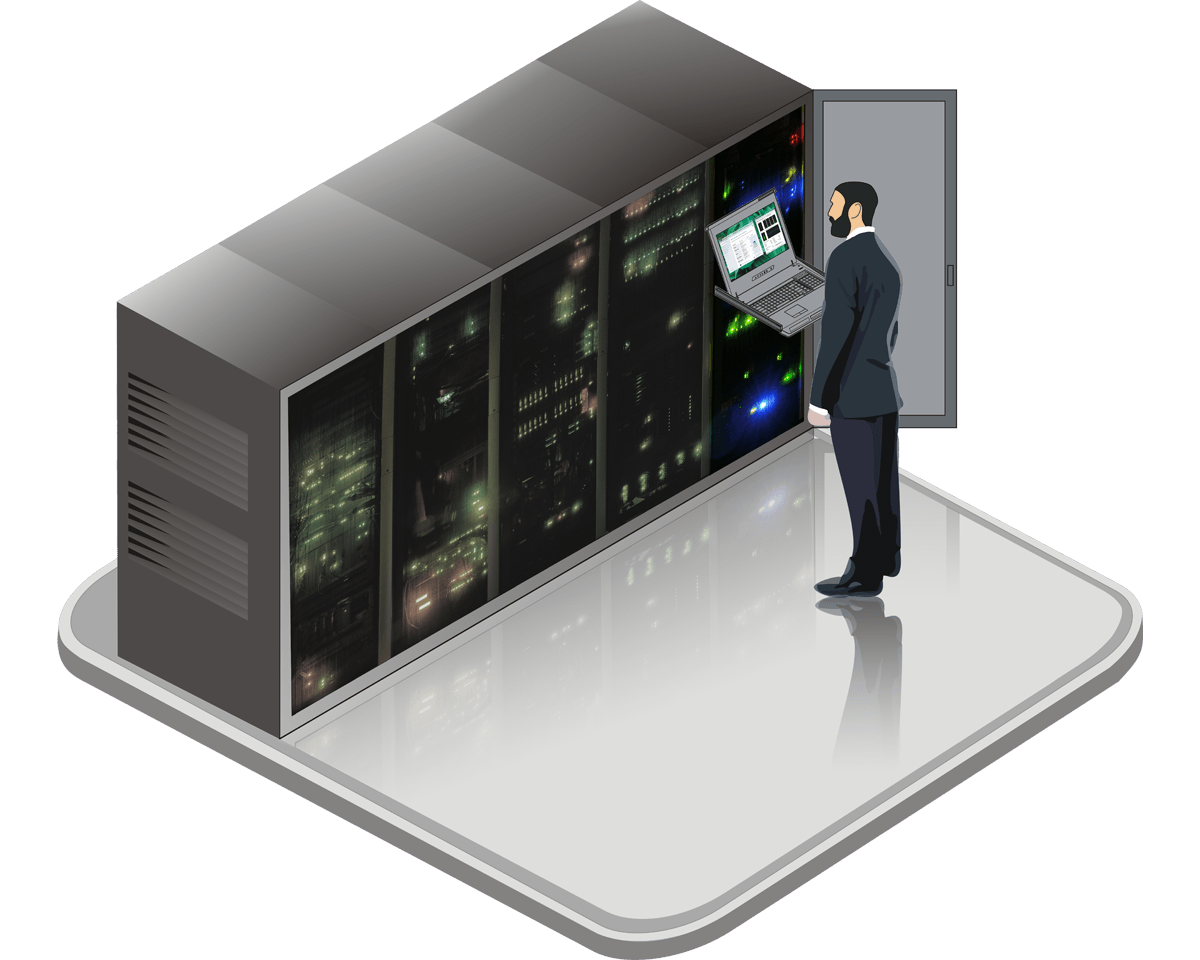 DVI-USB-Audio 1x8 KVM switch and rack drawer in 1U
17" or 19" LCD - resolution to 1280×1024
Dedicated switching buttons and status LEDs
USB keyboard/touchpad interface
On-screen menu for easy adjustments
Drawer can be locked to prevent access
Closing drawer puts LCD in standby
Optional audio and trackball
OVERVIEW
RackView Switch allows you to conveniently access multiple computers from a single KVM pullout rack drawer. The KVM switch is mounted behind the rack drawer, which conserves space. Switching the computer port is conveniently controlled from dedicated push-button switches mounted directly at the keyboard. LEDs show which port is selected and whether a computer is powered up. Switching to a computer also can be controlled with hot-key commands.
The package comes with a full set of cables:
8 DVI video cables
8 USB A-B cables
1 power cord
To install RackView Switch, screw the provided adjustable mounting rails to your standard 19" rack. Slide the unit into the mounted brackets and secure it. One person can easily install the RackView Switch in a rack. RackView has an automatic off feature where closing the lid engages a micro-switch that puts the RackView into standby mode. This saves power while instantly making the console available when needed. You can also switch audio too. Speakers installed in the rack console are available as an option or use your own.
This RackView model is also available without the KVM switch for those installations where direct dedicated connection to a computer is desired or where external KVM switches are used. Operating RackView Switch is very smooth. The benefit of accessing your computers so quickly and easily boosts productivity and makes the investment well worth it.
SPECIFICATIONS
Dimensions
(WxDxH)

15": 17.6" x 19" x 1.73" (447 x 482 x 44 mm)

17": 17.6" x 23.3" x 1.7" (447 x 592 x 44 mm)

19": 17.6" x 25.3" x 1.7" (447 x 642 x 44 mm)

Weight

15": 24.2 lb (11 kg)

17": 28.7 lb (13 kg)

19": 30.9 lb (14 kg)

Resolution

15": 1024 x 768

17": 1280 x 1024

19": 1280 x 1024

Diagonal size

15"/17"/19"

Dot pitch

15": 0.297 mm

17": 0.264 x 0.264mm

19": 0.098 x 0.294mm

Colors

16.2M

Contrast ratio

15": 400:1

17": 1000:1

19": 1000:1

Brightness

250 cd/m²

Backlight

Dual CCFL

Response time

15": 8 ms

17": Rising 1.2ms, Decay 3.8ms ms

19": Rising 1.3ms, Decay 3.7ms ms

Power

Auto-sensing 100 to 240VAC, 50-60Hz

9VDC power adapter

Watts

15": 16W

17": 13.5W

19": 13.6W

Controls

4 buttons for OSD control

1 on/off power button

Connectors

1 x VGA HD15 15-pin

1 x DVI female

2 x PS/2 Mini Din 6-pin

1 x USB type A

Environment

Operating temperature: 32°F–122°F (0°C–50°C)

Storage temperature: -4°F–140°F (-20°C–60°C)

Relative humidity: 10%–90%, non-condensing
PART NUMBERS
KVM Rack Drawers
RV1-CSKVT19/KVM-8TDVI/A1
RackView, KVM Drawer + 8 Port DVI KVM Switch, 19" 1280x1024 LCD, VGA, DVI, Touch Pad, US KB
RV1-CSKVT17/KVM-8TDVI/A1
RackView, KVM Drawer + 8 Port DVI KVM Switch, 17" 1280x1024 LCD, VGA, DVI, Touch Pad, US KB
RV1-CSKVT17/DVI
RackView, KVM Drawer, no switch, 17" 1280x1024 LCD, VGA, DVI, USB KB/MS, Touch Pad, US KB
RV1-CSKVT19/DVI
RackView, KVM Drawer, no switch, 19" 1280x1024 LCD, VGA, DVI, USB KB/MS, Touch Pad, US KB