UltraMatrix AV Pro
Modular AV Matrix Switch • 8×8, 16×16, 32×32, 64×64, 144×144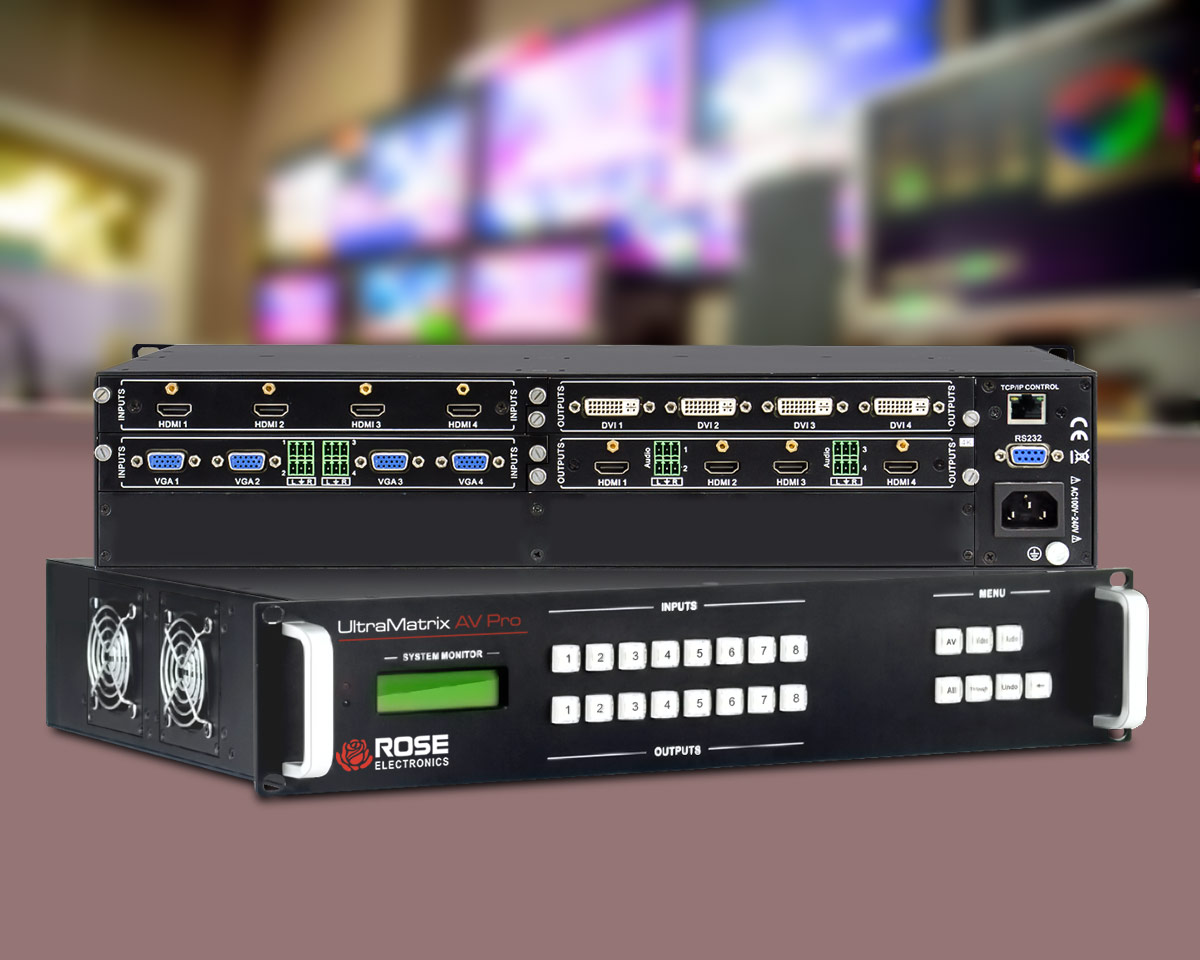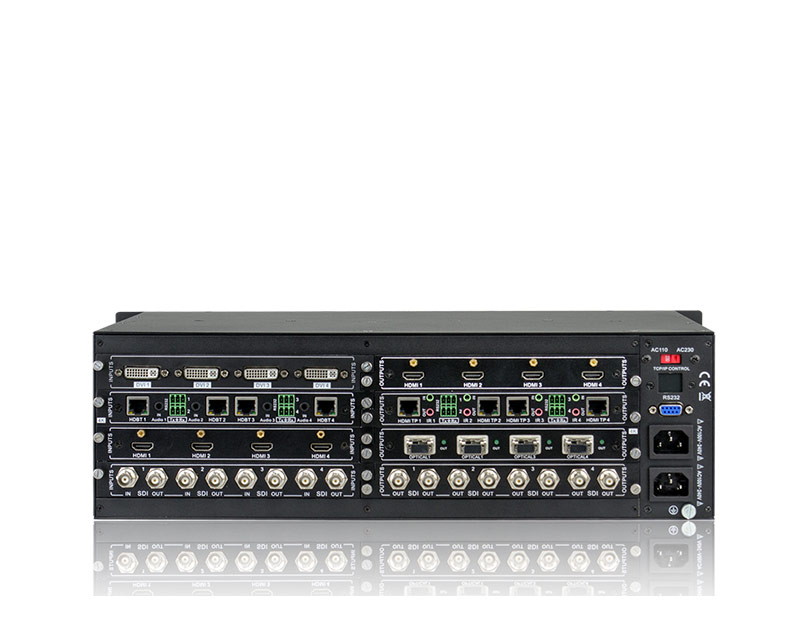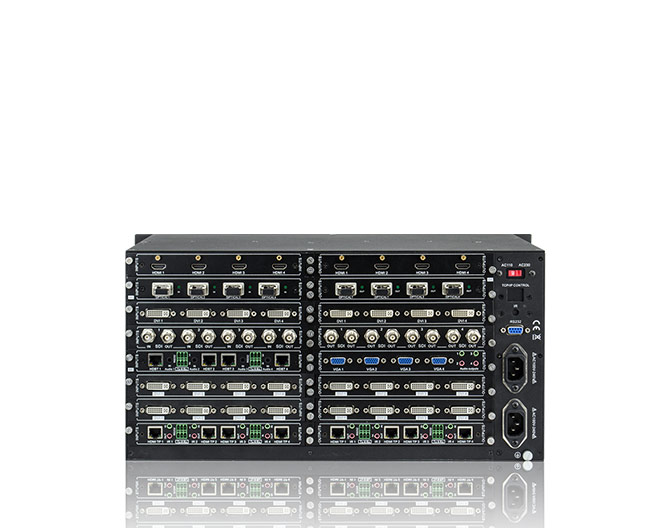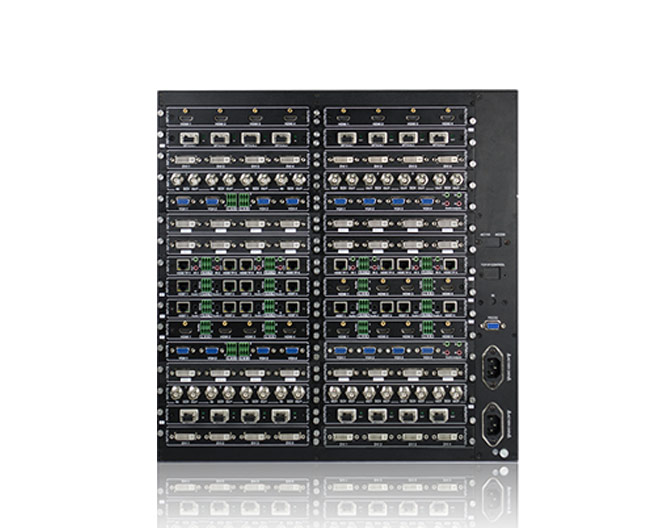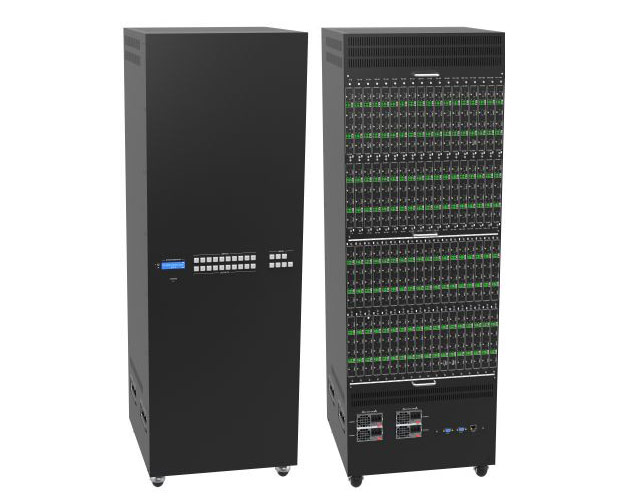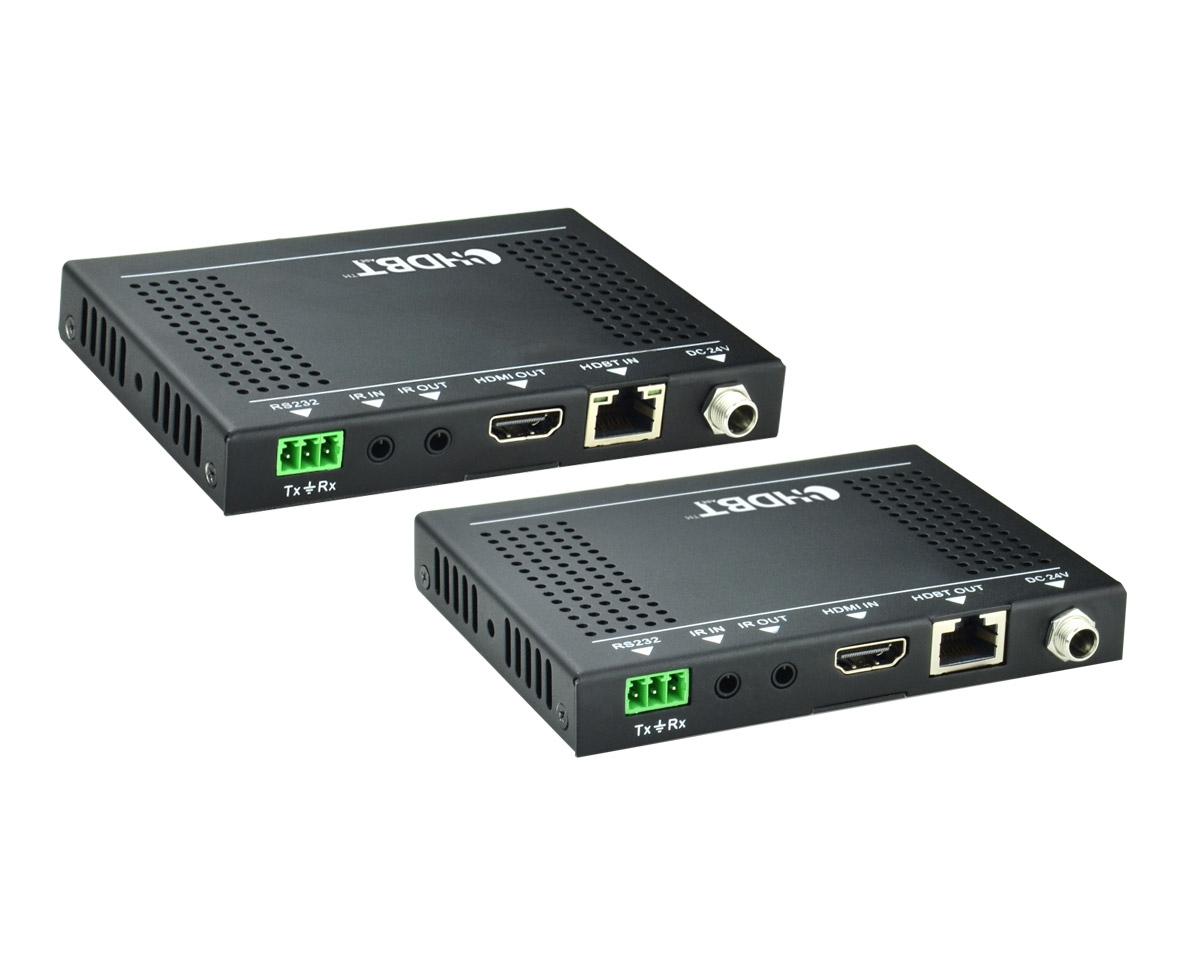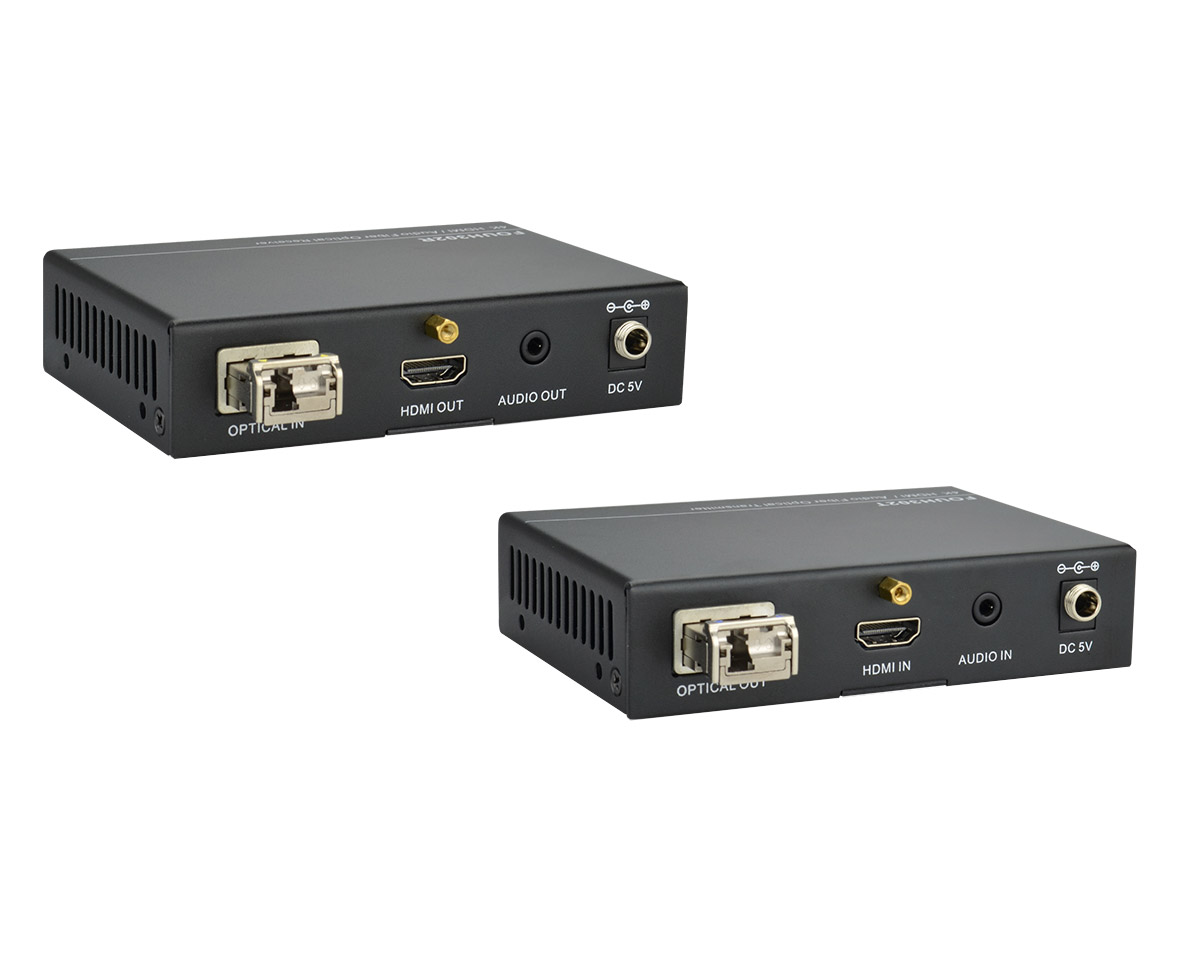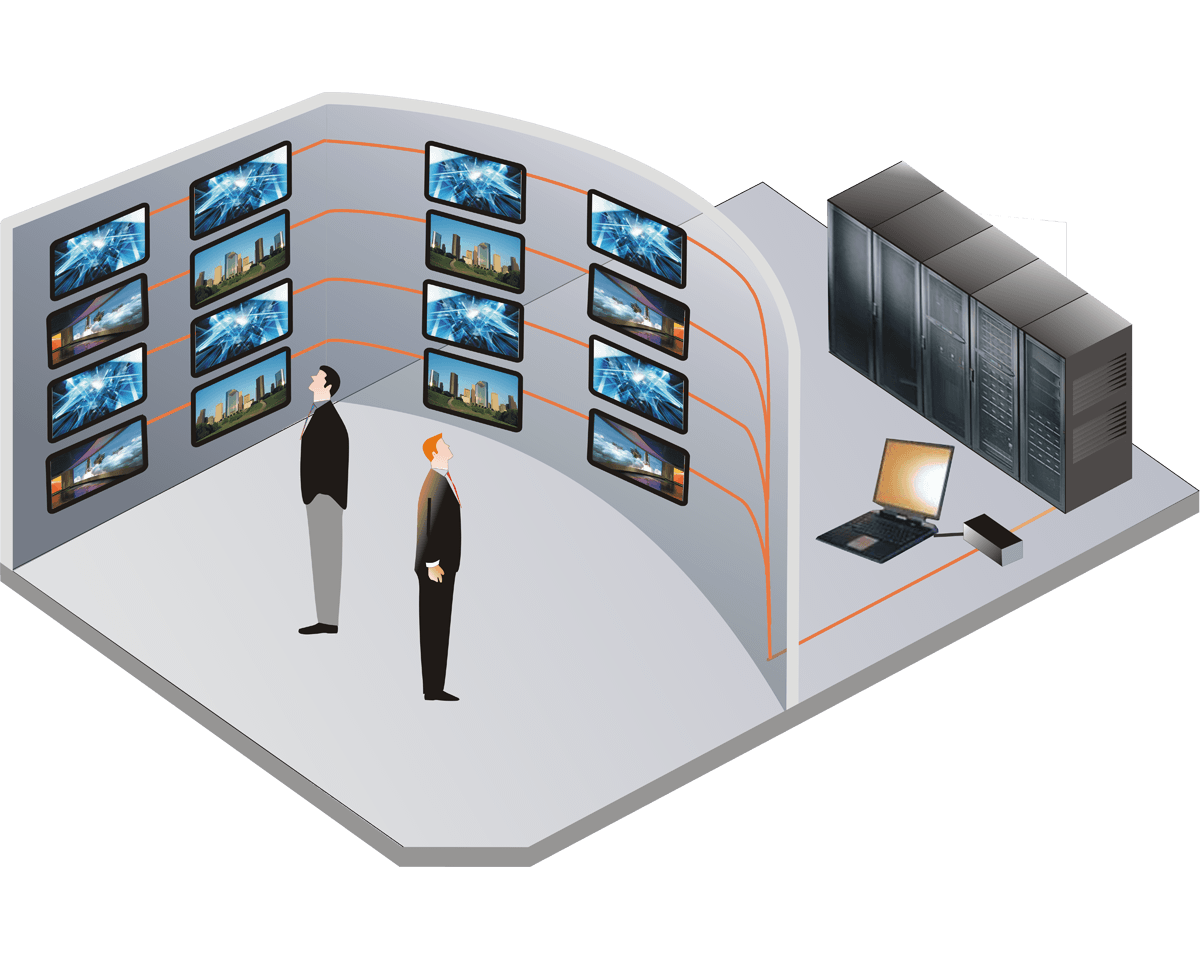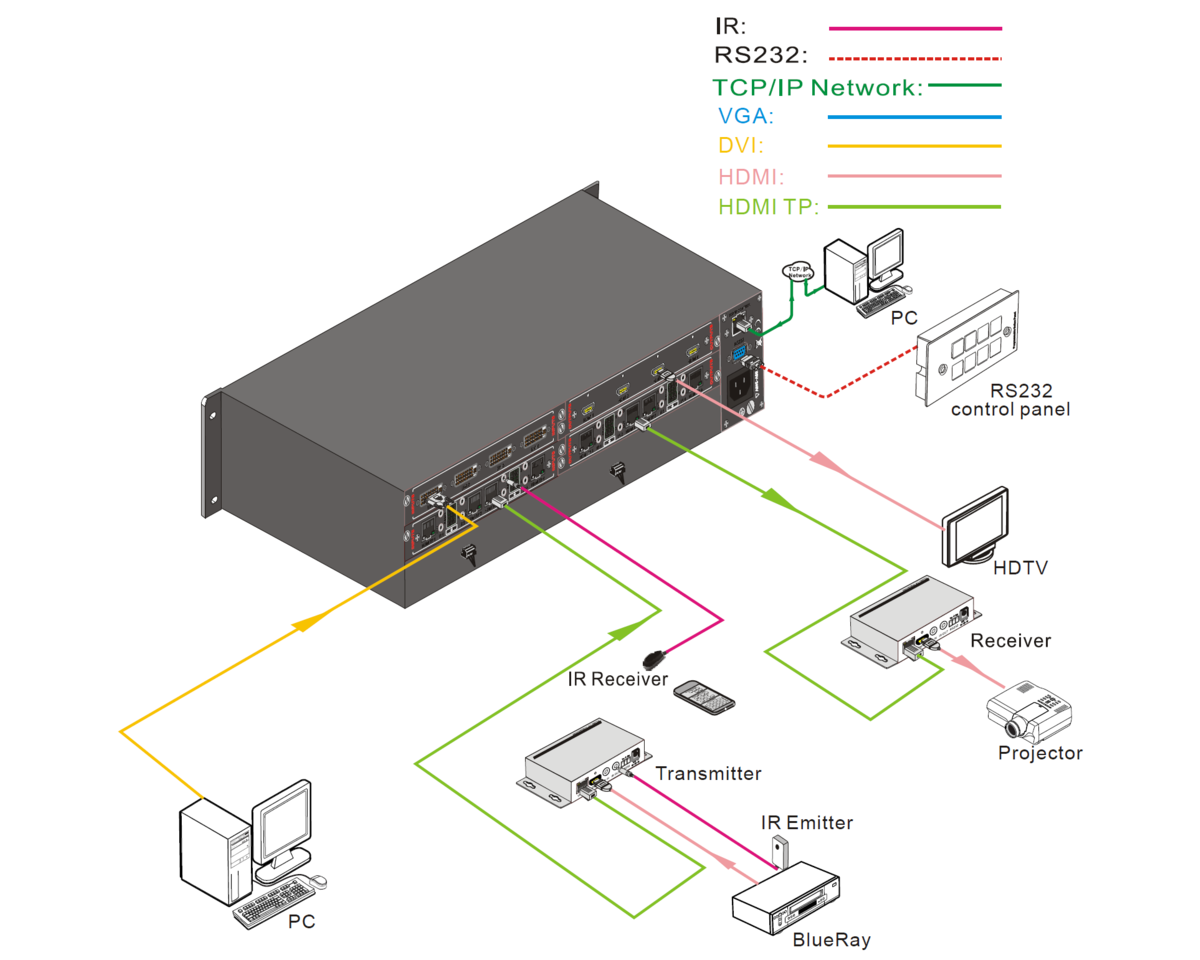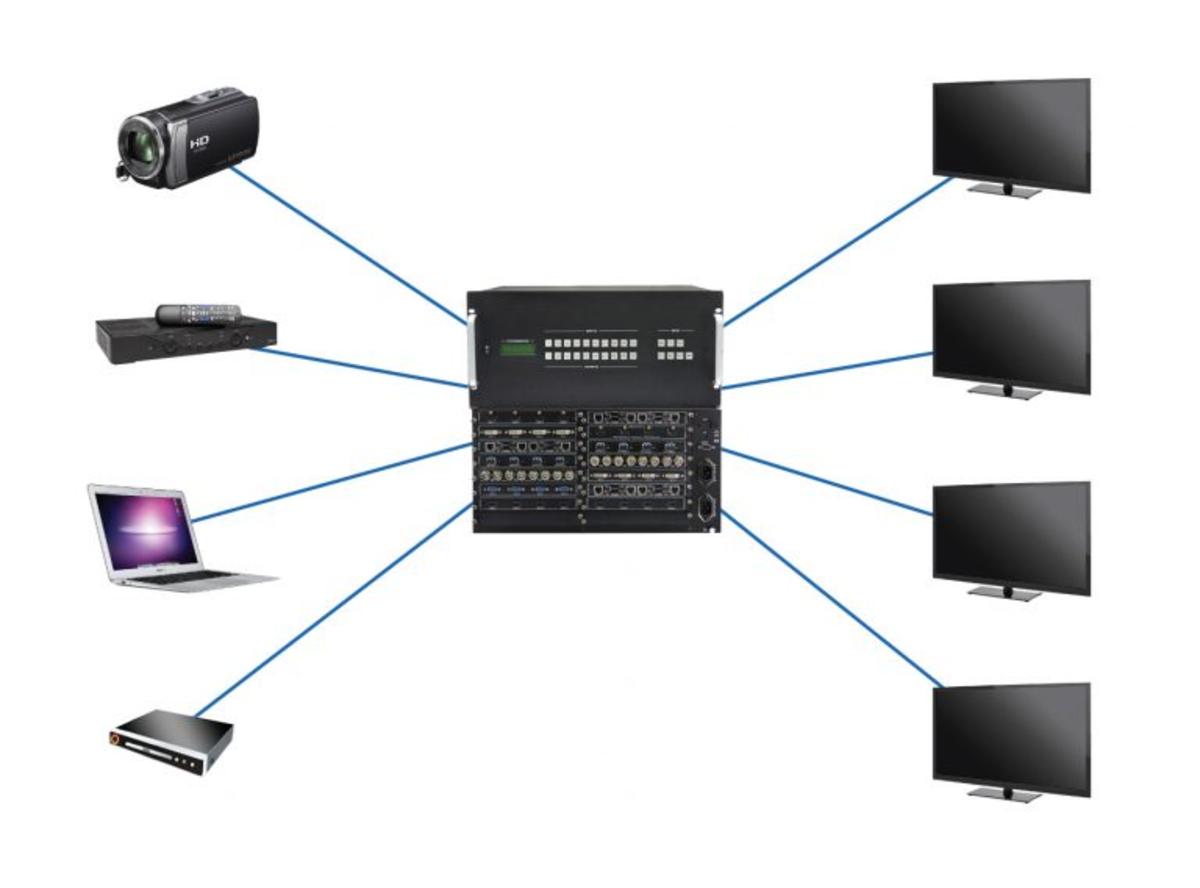 Modular chassis with configurable I/O slots
Hot-swappable 4-port I/O cards, available in HDMI, HDBaseT, 3G-SDI, DVI, VGA, audio, and fiber optic
Additional card options and variations
Cross-point seamless switching from any input port to any output port, regardless of the signal type
Ultra-switching for instantaneous display
Automatic built-in scaling and conversion
4K UHD resolution with the HDMI and HDBaseT cards
High bandwidth up to 10.2 Gbps
Switch audio with video or independently
LCD display
HDCP compliant
Smart EDID management
Control via front-panel, IR, Ethernet TCP/IP, and RS-232
Long-range extension from the switch with transmitter and receiver units

HDBaseT extends HDMI, IR, RS-232, Ethernet, and power
4K video resolution up to 131 ft. (40 m)
1080p video resolution up to 230 ft. (70 m)
Up to 984 ft. (300 m) over multi-mode fiber cable
Up to 1.2 miles (2 km) over single-mode fiber cable
OVERVIEW
The UltraMatrix AV Pro is a high-performance audio and video cross-point switch connecting any input to any output, including seamless switching from older legacy video formats due to built-in scaling and conversion.
The modular chassis accepts 4-port input and output cards in a variety of AV connections, including HDMI, DVI, VGA, 3G-SDI, HDBaseT, and fiber. 4K UHD resolution is supported with HDMI and HDBaseT cards. HDBaseT extenders are used with the HDBaseT input and output cards to transmit HDMI, IR, RS232, Ethernet, and power up to 233 ft. (70 m) over a single CATx cable. Fiber extenders are used with fiber I/O cards to extend HDMI and audio 984 ft. (300 m) over multi-mode fiber cable, or 1.2 miles (2 km) over single-mode fiber cable. The product is HDCP compliant with flexible EDID control. Audio can be transmitted together or separately from each video signal.
Configuration and control of the switch can be managed by the front panel, IR controller, Ethernet network, and RS-232 serial port. The system is scalable with chassis models available in 8x8, 16x16, 32x32, 64x64, and 144x144. This product is ideal for many applications, such as post production, control centers, presentation venues, medical, government, retail, and residential environments.
SPECIFICATIONS
| | |
| --- | --- |
| See the datasheet in Docs. | |
PART NUMBERS
| Product Part Number | Description |
| --- | --- |
| UMA-08Mx08M | UltraMatrix AV Pro 8×8 Chassis, includes 1 x internal PSU and RS232 serial |
| UMA-16Mx16M | UltraMatrix AV Pro 16×16 Chassis, includes 2 x internal PSU and RS232 serial |
| UMA-32Mx32M | UltraMatrix AV Pro 32×32 Chassis, includes 2 x internal PSU and RS232 serial |
| UMA-64Mx64M | UltraMatrix AV Pro 64×64 Chassis, includes 2 x internal PSU and RS232 serial |
| UMA-144Mx144M | UltraMatrix AV Pro 144x144 Chassis, includes 2 x internal PSU and RS232 serial |
| UMR-D4D | Input Card, 4x DVI-D ports |
| UMR-D4DX | Input Card, 4x Seamless DVI-I ports for DVI, HDMI, VGA, AV and YPbPr |
| UMR-D4H | Input Card, 4x HDMI ports |
| UMR-D4HX-4A | Input Card, 4x HDMI ports with auxiliary audio |
| UMR-V4 | Input Card, 4x VGA ports |
| UMR-V4A | Input Card, 4x VGA ports with auxiliary audio |
| UMR-2SDI4 | Input Card, 4x SDI ports, each with a local SDI output port |
| UMR-2SDI4X-2K | Input Card, 4x SDI ports, each with a local SDI output port, video resolution to 1080p |
| UMR-TPA4-4AS | Input Card, 4x RJ45 ports, each with stereo audio and RS-232 |
| UMR-HDT4-4AS | Input Card, 4x RJ45 HDBase-T ports, each with 1x auxiliary audio and RS-232 |
| UMR-1DFS4X | Input Card, 4x Singlemode optical fiber |
| UMR-1DFM4X | Input Card, 4x Multimode optical fiber |
| UMR-DTX0H4-4S-4K30 | Input Card, 4x HDMI ports, 4K30 video, with embedded audio and RS232 |
| UMR-D4D | Output Card, 4x DVI-D ports |
| UMR-D4DX | Output Card, 4x Seamless DVI-I ports for DVI, HDMI, VGA, AV and YPbPr |
| UMR-D4H | Output Card, 4x HDMI ports |
| UMR-D4HA | Output Card, 4x HDMI ports with auxiliary audio |
| UMR-V4 | Output Card, 4x VGA ports |
| UMR-2SDI4 | Output Card, 4x SDI ports, each with 2x BNC connectors |
| UMR-TPA4-4AS | Output Card, 4x RJ45 ports, each with stereo audio and RS-232 |
| UMR-HDT4-4AS | Output Card, 4x RJ45 HDBase-T ports, each with 1x auxiliary audio and RS-232 |
| UMR-1DFS4X | Output Card, 4x Singlemode optical fiber |
| UMR-1DFM4X | Output Card, 4x Multimode optical fiber |
| UMR-DTX0H4-4S-4K30 | Output Card, 4x HDMI ports, 4K30 video, with embedded audio and RS232 |
| /IP | TCP/IP option for external/remote control of the switch (add to the switch part number) |
| /SWX | Optional power switch on 16, 32, 64, and 144 port models. Allows selection of 110V or 230V power |
DOCUMENTS
| DOCUMENT | LINK |
| --- | --- |
| Datasheet • UltraMatrix AV Pro | PDF |