RackView High Res 17
KVM Rack Drawer • 17" High Resolution LCD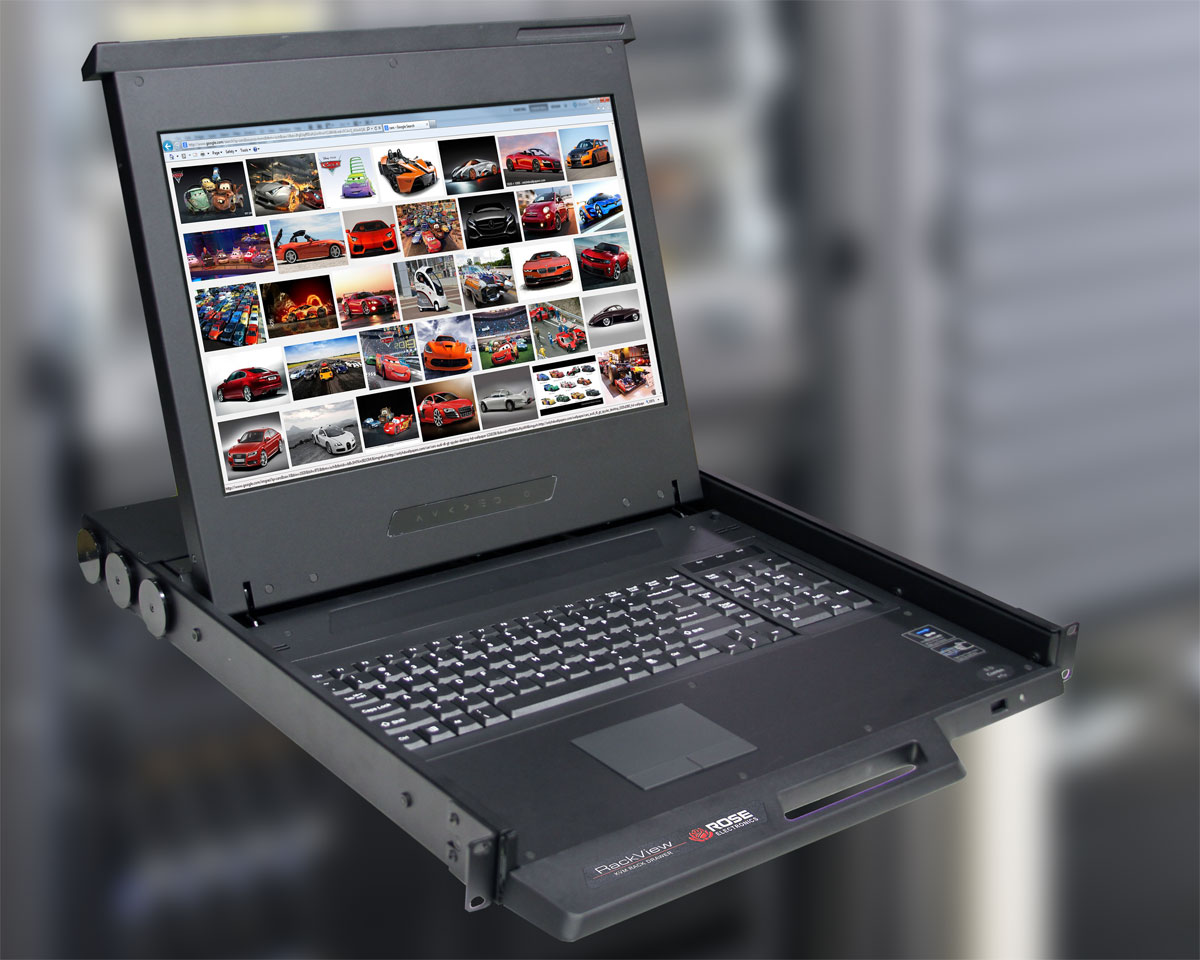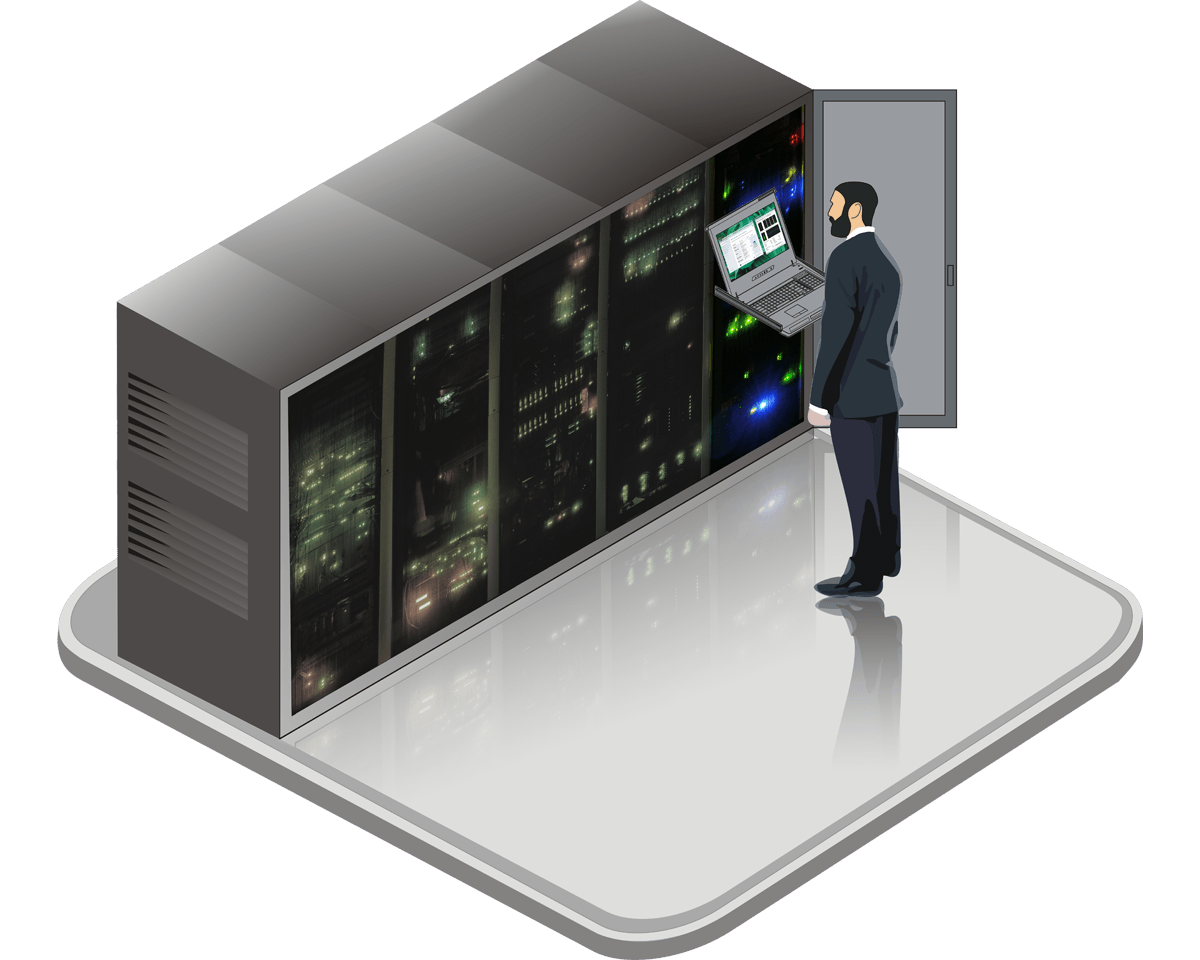 Widescreen 17.1" TFT
Resolution up to 1920×1200 (WUXGA) - DVI or VGA
Supports a rear-mounted DVI or VGA KVM switch
Front USB port for device access (with Hub KVM only)
USB keyboard/touchpad interface
On-screen menu and picture-in-picture (PiP)
Optional trackball mouse and DC power
Optional video includes HDMI and SD-SDI
OVERVIEW
When you want the maximum clarity for your KVM console drawer, RackView High Res fits the bill. At 1920×1200, you get a very detailed picture. Of course, in addition to the 17" high resolution folding monitor, there is a touchpad mouse and USB keyboard with a separate numeric keypad. The folding and sliding features ensure easy and quick access while in use, and keep the keyboard and screen from blocking access to rack equipment when the console is not in use.
The video interface features both DVI and VGA. If you want to go all out, then hookup both video inputs and use the picture-in-picture function (PiP). As in a television, you can view two video sources simultaneously usually one at full size and another at a reduced size in a small window. You can however display them side by side as well.
The unit comes standard with a DVI/USB cable. There is no PS/2 keyboard interface in this model. To install RackView, screw the provided adjustable mounting rails to your standard 19" rack. Slide the unit into the mounted brackets and secure it. One person can easily install the RackView in a rack. This model also has standby on close whereby closing the lid turns the monitor off automatically and puts it in standby mode.
RackView + KVM Switch options include three different KVM switches that will satisfy most data center applications. There is an 8 or 16-port VGA/USB switch with a combined 2-port USB2.0 hub, an 8 or 16-port VGA/USB switch with a cascade port for 8-level cascades, and a 12-port DVI/USB switch. These switches are mounted in the rear of the RackView chassis, and each kit includes a quantity of CPU cables for easy installation.
RackView High Res is sure to fulfill your requirements for a high quality video display. It is ideal for industries requiring precision and detail such as military, medical, or broadcast, but it serves equally well in any data center.
SPECIFICATIONS
Dimensions

17.4" x 18.9" x 1.73" (442 x 480 x 44 mm)

Weight

24.0 lb (10.9 kg)

Resolution

1920 x 1200

Diagonal size

17.1"

Viewing Area

14.45" x 9.02" (367 x 229 mm)

Dot pitch

0.191 mm

Colors

16.7M

Contrast ratio

600:1

Brightness

210 cd/m²

Backlight

LED

MTBF

20,000 hours

Response time

30 ms

Power

Auto-sensing 100 to 240VAC, 50-60Hz

Watts

Max. 34 Watt, Standby 4 Watt

Controls

6 backlit buttons for OSD control

1 on/off power button

Pip function

Connectors

DVI female: DVI video

HD15 female: VGA video, PS/2 and USB keyboard and mouse

Environment

Operating temperature: 32°F–131°F (0°C–55°C)

Storage temperature: -4°F–140°F (-20°C–60°C)

Relative humidity: 20%–90%, non-condensing
PART NUMBERS
KVM Rack Drawer
RV1-CAKVT17/FHD/Kn
High Resolution LCD, 1920x1200
RV1-CAKVT17/FHD/KVM-108CMH
RackView, KVM Drawer, 17HD" 1920 x 1200 LCD, with an 8-port VGA/USB switch with a 2-port USB hub (8* CPU cables included)
RV1-CAKVT17/FHD/KVM-116CMH
RackView, KVM Drawer, 17HD" 1920 x 1200 LCD, with a 16-port VGA/USB switch with a 2-port USB hub (8* CPU cables included)
RV1-CAKVT17/FHD/KVM-108CMB
RackView, KVM Drawer, 17HD" 1920 x 1200 LCD, with an 8-port VGA/USB switch and a cascade port (8* CPU cables included)
RV1-CAKVT17/FHD/KVM-116CMB
RackView, KVM Drawer, 17HD" 1920 x 1200 LCD, with a 16-port VGA/USB switch and a cascade port (8* CPU cables included)
RV1-CAKVT17/FHD/KVM-12TDVI
RackView, KVM Drawer, 17HD" 1920 x 1200 LCD, with a 12-port DVI/USB switch (6* CPU cables included)
Cables (CPU)
CAB-CMBVM66C005
Combo(HD15) to VGA+PS2
CAB-CMBVMUAC005
Combo(HD15) to VGA+USB
CAB-CMBDVUAC005
Combo(HD15)+DVI-D to DVI-I+USB
Cables (User port)
/K1
HD15 -HD15 + (1) USB-A
/K2
HD15 to HD15 + (2) PS2
/K3
DVI-D + VGA-M to DVI-I + (1) USB-A
Options
/nnnDC
12/24/48/125/250 DC power option
/HM
HDMI with dual stereo speakers, 2W x 2
/SD
3G/HD/SD-SDI Broadcast video
/KM
Trackball Mouse
International KB
(add /nn to part number)
/UK,/DE,/FR,/SP,/IT,/NE,/NO,/RU,/SW,
/PO,/CH,/JP,/KR,/AR,/TU