RackView LCD Drawer
1U Rack Mount LCD Drawer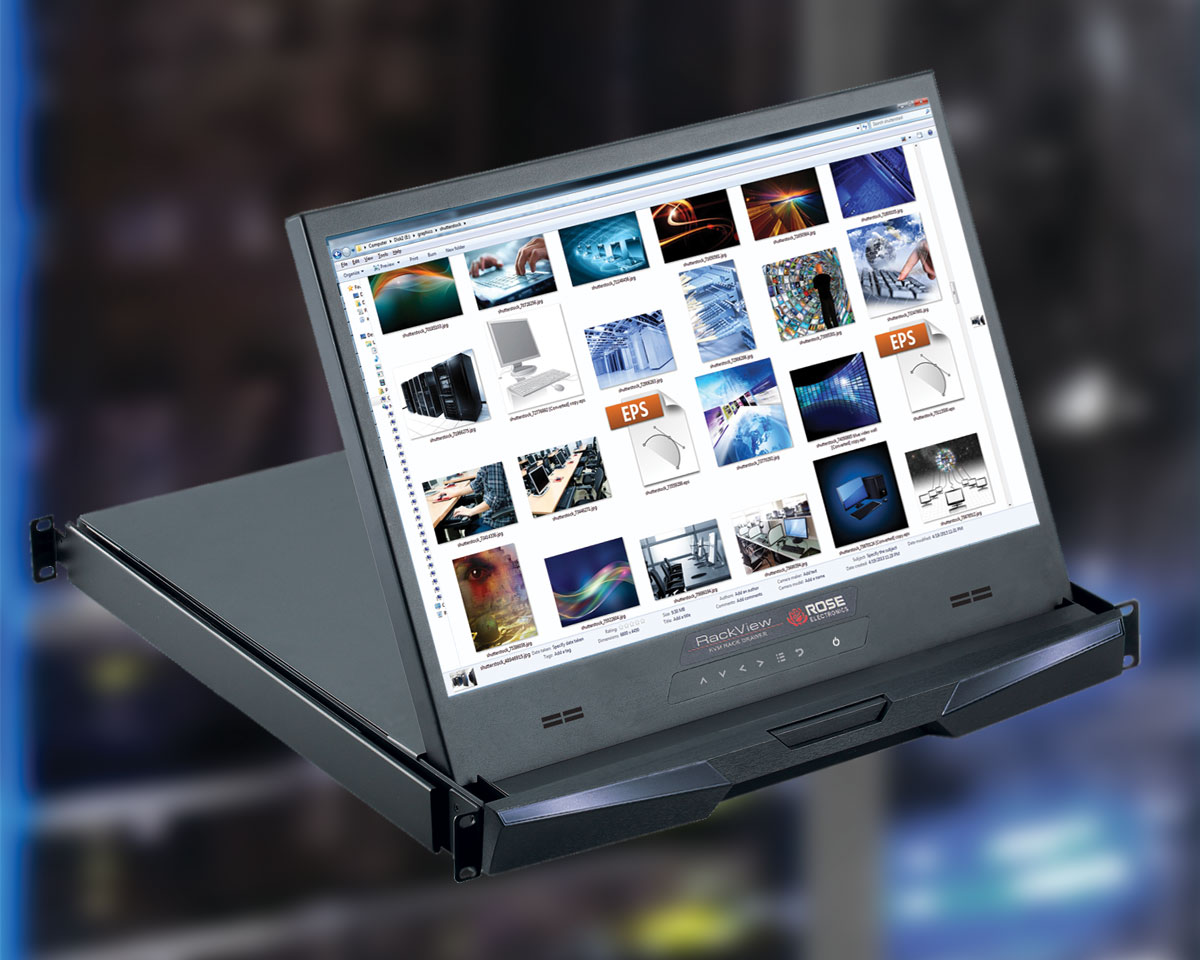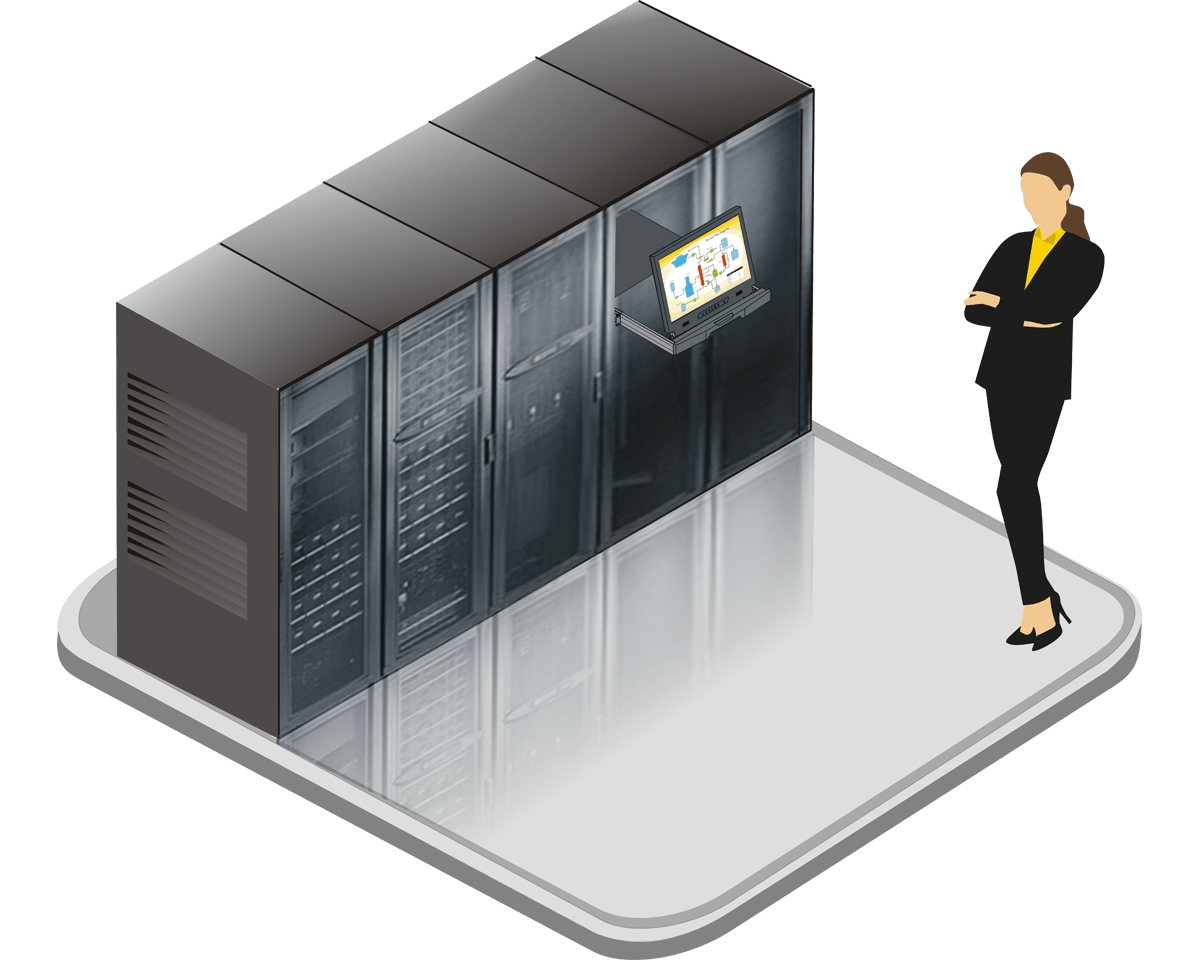 VGA or DVI video resolutions up to:

17"

1280×1024

19"

1280×1024

17" wide

1920×1080

17" HD

1920×1200

19" wide

1440×900

20"

1600×1200

On-screen menu for easy adjustments
Optional touchscreen, DC power, HDMI, SD-SDI
OVERVIEW
RackView LCD Monitor is a foldaway monitor that can be pulled out anytime you need to use it. The product has an innovative space saving design that allows it to fit in 1U of rack space. It can be placed at any height desired within a standard 19" rack. The monitor allows easy access for viewing while occupying a minimum amount of rack space. The front panel conceals the unit when it is not in use.
RackView LCD Monitor features a Samsung LCD panel known for its high quality and reliability. Its LED backlighting technology helps to conserve energy and reduce heating in your power-hungry data center.
There are a wide range of sizes and resolutions available:
17"

1280×1024

19"

1280×1024

17" wide

1920×1080

17" HD

1920×1200

19" wide

1440×900

20"

1600×1200
All models except the 19" wide and the 20" are available with a USB touchscreen option. The 17"HD (1920x1200) model also includes a picture-in-picture (PiP) function for viewing two video sources simultaneously, usually one at full size and another at a reduced size in a small window. This option works whenever the HDMI or SD-SDI video options are installed.
RackView LCD monitor is great for use with multi-headed video where you need extra monitors but no keyboard or mice.
SPECIFICATIONS
Dimensions
(WxDxH)

17": 17.4" x 19.7" x 1.73" (441.6 x 500 x 44 mm)

19": 17.4" x 19.7" x 1.73" (441.6 x 500 x 44 mm)

19"W: 17.4" x 18.1" x 1.73" (441.6 x 460 x 44 mm)

20": 17.3" x 25.6" x 1.73" (439.6 x 650 x 44 mm)

17"W: 17.4" x 18.9" x 1.73" (441.6 x 480 x 44 mm)

17"HD: 17.4" x 18.9" x 1.73" (441.6 x 480 x 44 mm)

Weight

17": 23.1 lb (10.5 kg)

19": 27.5 lb (12.5 kg)

19"W: 28.6 lb (13 kg)

20": 29.7 lb (13.5 kg)

17"W: 24.2 lb (11 kg)

17"HD: 24.2 lb (11 kg)

Resolution

17": 36.3 lb (16.5 kg)

19": 40.7 lb (18.5 kg)

19"W: 37.4 lb (17 kg)

20": 38.5 lb (17.5 kg)

17"W: 33 lb (15 kg)

17"HD: 33 lb (15 kg)

Diagonal size

17"

19"

19"

20.1"

17.3"

17.1"

Viewing Area

17": 13.31" x 10.63" (338 x 270 mm)

19": 14.80" x 11.85" (376 x 301 mm)

19"W: 16.06" x 10.04" (408 x 255 mm)

20": 16.06" x 12.05" (408 x 306 mm)

17"W: 15.04" x 8.46" (382 x 215 mm)

17"HD: 14.45" x 9.06" (367 x 230 mm)

Dot pitch

17": 0.264 mm

19": 0.294 mm

19"W: 0.2835 mm

20": 0.255 mm

17"W: 0.1989

17"HD: 0.191

Colors

16.7M

Contrast ratio

17": 1000:1

19": 1000:1

19"W: 1000:1

20": 800:1

17"W: 600:1

17"HD: 600:1

Brightness

17": 250 cd/m²

19": 250 cd/m²

19"W: 300 cd/m²

20": 300 cd/m²

17"W: 400 cd/m²

17"HD: 210 cd/m²

Backlight

17", 19"W, 20": CCFL

19", 17"W, 17"HD: LED

MTBF

17", 19"W, 17"W: 50,000hrs

19": 30,000hrs

20": 45,000hrs

17"HD: 20,000hrs

Response time

17": 5 ms

19": 5 ms

19"W: 5 ms

20": 16 ms

17"W: 40 ms

17"HD: 30 ms

Power

Auto-sensing 100 to 240VAC, 50-60Hz

Watts

17": Max. 25 Watt, Standby 4 Watt

19": Max. 25 Watt, Standby 4 Watt

19"W: Max. 25 Watt, Standby 4 Watt

20": Max. 48 Watt, Standby 4 Watt

17"W: Max. 25 Watt, Standby 4 T39

17" HD Max. 34 Watt, Standby 4 Watt

Controls

6 backlit buttons for OSD control

1 on/off power button

Connectors

1 x VGA HD15 15-pin

1 x DVI female

Environment

Operating temperature: 32°F–131°F (0°C–55°C)

Storage temperature: -4°F–140°F (-20°C–60°C)

Relative humidity: 5%–90%, non-condensing
PART NUMBERS
LCD Rack Drawers
RV1-LCDA17/DVI
1U 17" 1280x1024 LCD rack drawer, DVI and VGA
RV1-LCDA19/DVI
1U 19" 1280x1024 LCD rack drawer, DVI and VGA
RV1-LCDA17/DWS/HD
1U 17" 1920 x 1080 LCD rack drawer, DVI and VGA
RV1-LCDA17/FHD
1U 17" 1920 x 1200 LCD rack drawer, DVI and VGA
RV1-LCDA19/WS
1U 19" 1440x900 wide screen LCD rack drawer, DVI and VGA
RV1-LCDA20/DVI
1U 20" 1600x1200 LCD rack drawer, DVI and VGA
Cables
CAB-DVIDMM006
DVI-D cable 6'
CAB-DVIDMM010
DVI-D cable 10'
CAB-CXVMM005
VGA cable 5'
CAB-CXVMM010
VGA cable 10'
Options
/nnnDC
12/24/48/125/250 DC power option
/HM
HDMI with dual stereo speakers, 2W x 2
/SD
3G/HD/SD-SDI Broadcast video (1080p, FHD and 19"WS only)
/AV
S-Video, Composite BNC (17", 19", 19"WS and 20" only)
/TSR
Resistive Touchscreen (17", 19", 17"WS and 17"HD only)
/TSC
Capacitive Touchscreen (17", 19", 17"HD only)
/KM
Trackball Mouse
International KB
(add /nn to part number)
/UK,/DE,/FR,/SP,/IT,/NE,/NO,/RU,/SW,
/PO,/CH,/JP,/KR,/AR,/TU