UltraView DVI
1×16 KVM Switch • DVI • USB2.0 • Audio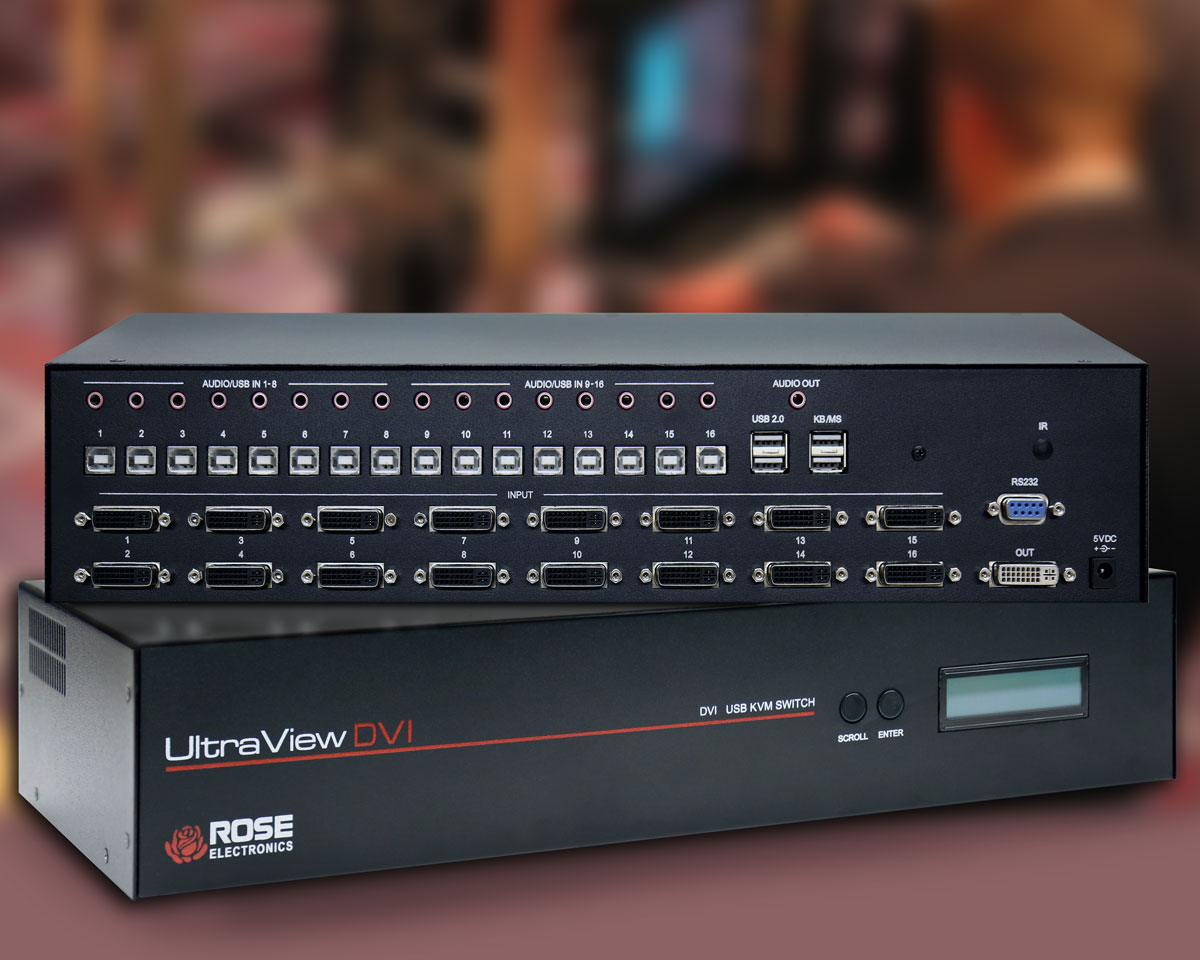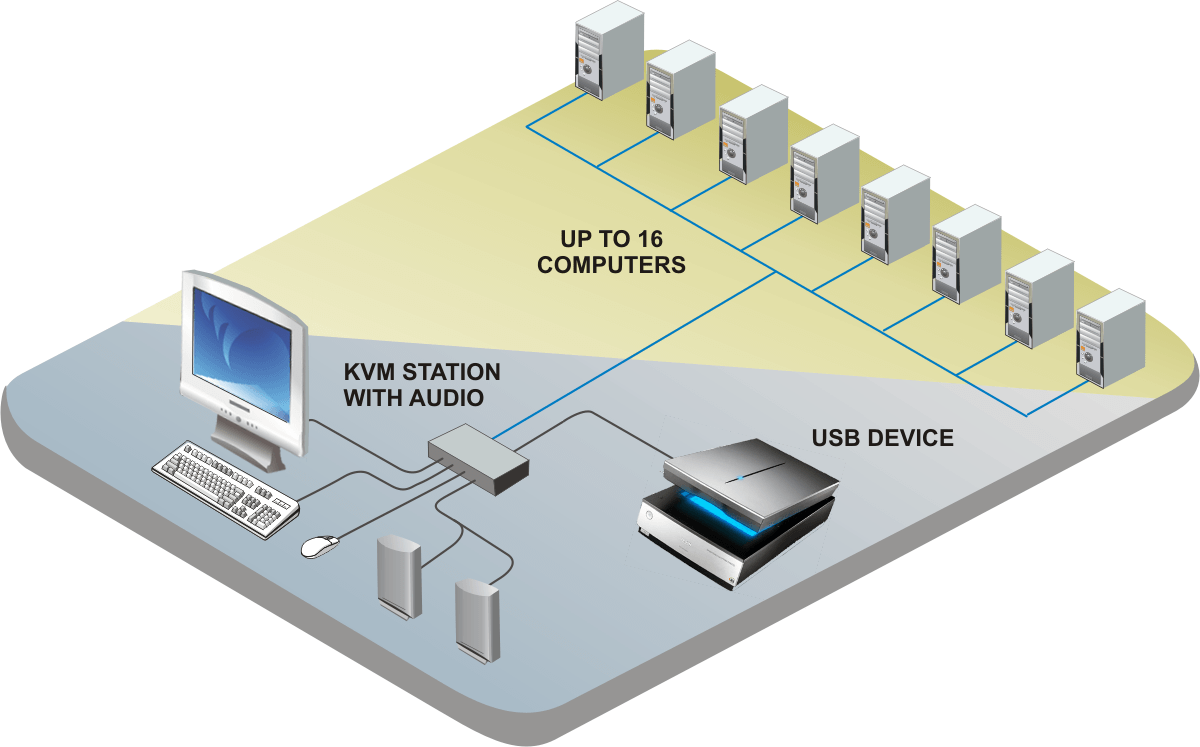 Supports single-link DVI video input / output
Input/output resolutions up to 1920×1200
Supports all USB 2.0 devices, including flash drives, printers, cameras, and scanners
Supports USB-HID keyboard and mouse
Analog stereo audio switching
Front panel buttons and LCD display for local manual control
Serial RS-232 remote control
Optional IR and Ethernet remote control
Hot-key commands for port switching
Independent or joint switching of PCs, USB hub, audio, and microphone
USB Keyboard and mouse emulation for trouble free booting
Computers can be up to 40 feet away from the KVM console with 20 feet on either side of the switch
Has the capacity to learn what type of monitor is connected to the switch and emulate it across all ports
Flash upgradeable firmware and rack-mountable
OVERVIEW
The 16 port switch supports DVI video, USB keyboard and mouse, along with audio and USB 2.0 devices, or the KVM can be switched independently of the audio and USB 2.0 peripherals. The UltraView DVI provides switching locally from the front panel control buttons and keyboard hot-keys, or through the RS-232 port. Optional infrared remote control and TCP/IP controls are available.
Display EDID information supplied to the computers can be one of two standard tables suitable for either PC or Mac, or it can be acquired from an attached display. The switch then emulates the discovered EDID information and emulates it to all ports so that the attached computers can access the EDID table at boot-up.
The product is able to handle several video resolutions up to 1920 x 1200 @ 60 Hz (WUXGA). Installation of the unit is quick and simple. Connect the product to the desired computers and devices and the KVM console. Then power on the peripherals, followed by the switch and finally the connected PC's/Servers. Computers can be up to 40 feet (12 meters) away from the KVM console, or 20 feet (6 meters) on each side of the switch. The switch is rackmountable, flash upgradeable, and made in the USA.
SPECIFICATIONS
Dimensions (W x D x H)

16.9" x 7" x 3.5" (430 x 178 x 89 mm) (2U)

Weight

5 lb (2.3 kg)

Power

100-240 VAC 50-60Hz

External adapter, +5V, 4.0A

20W

Resolution

Single-link DVI: 1920 x 1200@60Hz

Distance

CPU/KVM: 20 feet (6.0m)

User/KVM: 20 feet (6.0m)

Connectors

Video: DVI female

Keyboard: USB Type A

Mouse: USB Type A

USB2.0: 2x USB Type A

Serial: RS232, DB9F, 115,200bps

Audio: 3.5mm output

USB Input: 16 x USB-Type B

Audio Input: 16x 3.5mm jack

Power: Barrel jack

Controls

Computer selection: Front panel, keyboard hot-key, Serial RS232

Optional Control: Infrared or TCP-IP

LCD Display: LCD with 2x20 charcters

Front Panel Buttons: Scroll and Enter

Environment

Operating temperature: 32°F–131°F (0°C–55°C)

Storage temperature: -4°F–185°F (-20°C–85°C)

Relative humidity: 0%–95%, non-condensing
PART NUMBERS
| Product Part Number | Description |
| --- | --- |
| UVD-1x16DVI/UA1 | 1X16 KVM DVI /USB/Audio KVM Switch |
| Cable Part Number | Description |
| CAB-DVIDMM006 | DVI-D, 6ft (2.0m) Video Cable. |
| CAB-USBAB006 | USB-AB 6ft (2.0m) USB Cable |
| CAB-SPMM006 | Audio with 3.5mm, 6ft (2.0m) |