UltraView Remote 2
Multi-computer VGA KVM-IP remote access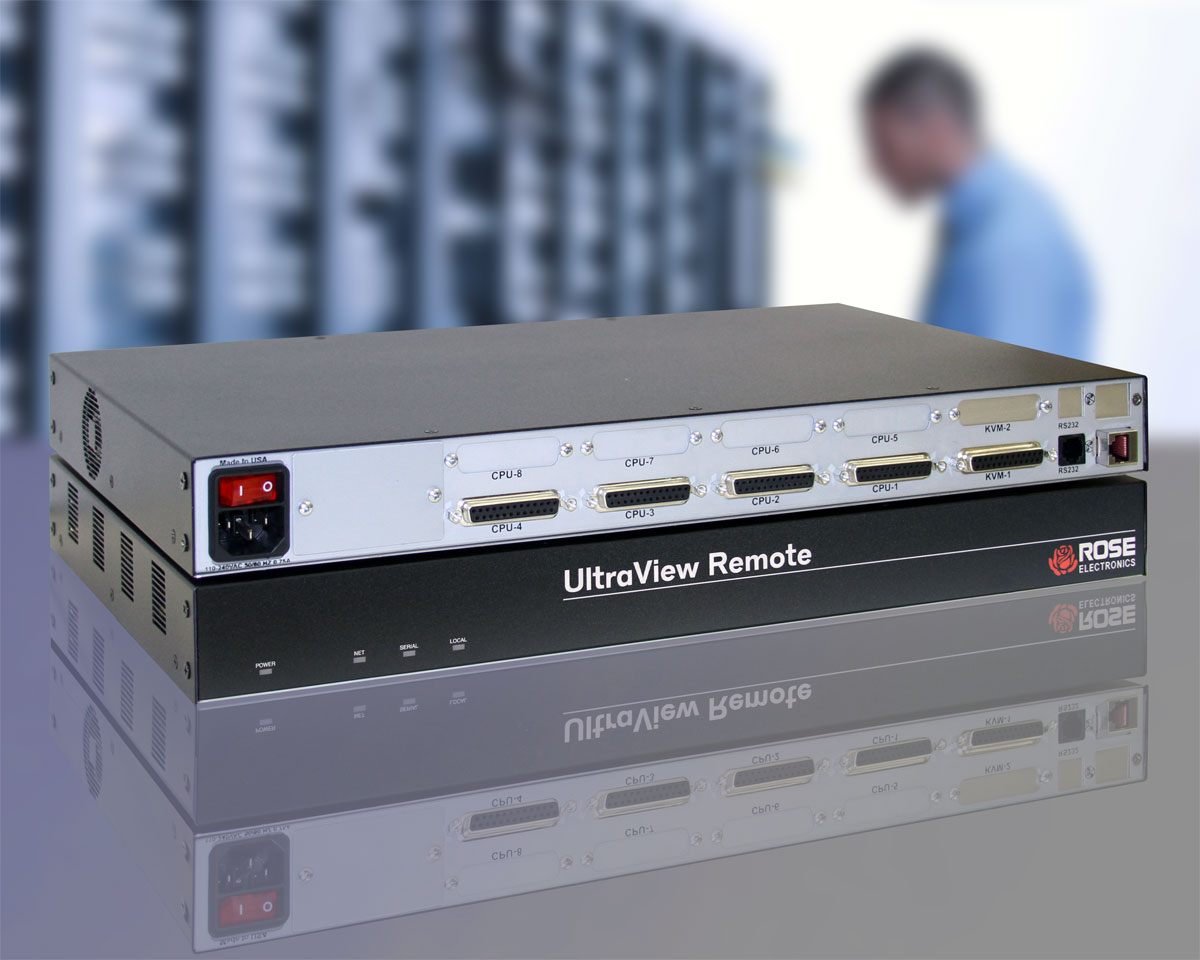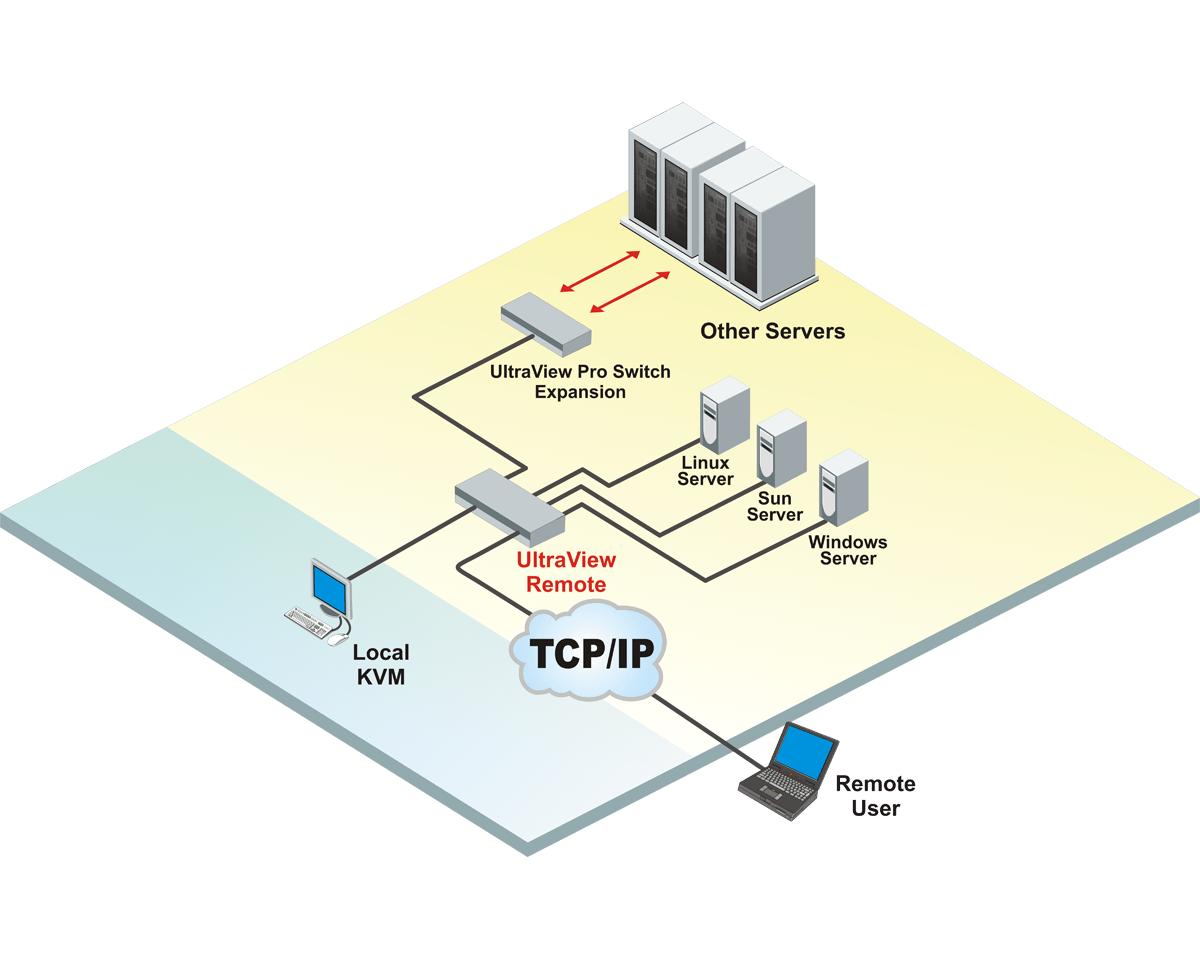 Secure encrypted access to UltraView Remote 2 plus user-ID and password access to the connected computers
Connect to UltraView Remote 2 directly, from any network workstation, or remotely over IP using any supported Internet browser
Up to 4 remote users can connect to the same remote user port simultaneously
Easy to install and configure locally or over your network
Models available: 4 / 8 / 16 CPU port chassis
Password security prevents unauthorized configuration
Remote application (Real VNC or Java applet) can be installed directly from the unit
On-screen menu for configuration and computer selection
Switch computers using simple keyboard commands, using the on-screen menu, or a serial input to the RS232 port
Built-in daisy-chaining to support up to 256 computers
Pre-configuration feature allows installation without powering down servers or computers
OVERVIEW
UltraView Remote 2 is a powerful and versatile product using the latest technology to allow KVM access and CPU switching over IP from any remote location. UltraView Remote 2 is outfitted with a wide range of features and benefits, including an advanced on-screen menu, integrated security measures, flash memory, and easy expansion.
The simple-to-use on-screen menu provides fast and easy access to any computer locally, over a network, or from anywhere in the world, making management of computer systems simple and easy from any location. Switching and selecting computers is made simple with keyboard commands, an on-screen display, or a serial input. Images and video are transmitted at a crystal clear high quality resolution of 1600 x 1200. An embedded security system with features for configuration and password protection prevent unauthorized user access.
Regardless of the rate of expansion, UltraView Remote 2 can meet system growth requirements while maintaining simplicity and organization. UltraView Remote 2 can connect directly to 8 or 16 computers or servers, with the capacity to expand proportionately to business growth by chaining together additional units. When using the 16-port units, you can expand the UltraView Remote 2 to 256 computers. Expansion units can include either a ServeView Pro or UltraView Pro KVM switch, as the IP component is only required for the master switch. UltraView Remote 2 can't be used as an expansion unit. Installation does not require you to power down servers and computers. UltraView Remote 2 supports PC, Apple Sun, Linux, UNIX, and USB computers.
UltraView Remote 2 comes in the following 3 models:
4 CPU port chassis
8 CPU port chassis
16 CPU port chassis
SPECIFICATIONS
Dimensions
(W x D x H)

4-port: 16.7" x 15.2" x 1.75" (424 x 386 x 44.5 mm) (1U)

8-port: 16.7" x 15.2" x 1.75" (424 x 386 x 44.5 mm) (1U)

16-port: 16.7" x 15.2" x 3.5" (424 x 386 x 89 mm) (2U)

Weight

4-port: 6.9 lb (3.1 kg)

8-port: 9.3 lb (4.2 kg)

16-port: 14 lb (6.4 kg)

Power

90-240 VAC 50-60Hz

4-port: 15W

8-port: 25W

16-port: 50W

Resolution

VGA: 1600 x 1200

Distance

CPU/KVM: 25 feet (7.6m)

Connectors

Power: IEC 320

CPU/KVM: DB25F

RS232: RJ 6-conductor

Network: RJ45

Controls

Computer selection: OSD, hot-key, serial port

Unit Power: Green LED

Environment

Operating temperature: 32°F–113°F (0°C–45°C)

Storage temperature: -13°F–140°F (-25°C–60°C)

Relative humidity: 5%–80%, non-condensing
PART NUMBERS
| Product Part Number | Description |
| --- | --- |
| UPR-1R04UB/2 | UltraView Remote 2, One-user, KVM Switch over IP, PC, 1-remote / 1-local user, 4-CPUs |
| UPR-1R08UB/2 | UltraView Remote 2, One-User KVM Switch over IP, PC, 1-remote / 1-local user, 8-CPUs |
| UPR-1R16UB/2 | UltraView Remote 2, One-User KVM Switch over IP, PC, 1-remote / 1-local user, 16-CPUs |
| UER-1R04UB/2 | UltraView Remote 2, One-User KVM Switch over IP, Multi-platform, 1-remote / 1-local user, 4-CPUs |
| UER-1R08UB/2 | UltraView Remote 2, One-User KVM Switch over IP, Multi-platform, 1-remote / 1-local user, 8-CPUs |
| UER-1R16UB/2 | UltraView Remote 2, One-User KVM Switch over IP, Multi-platform, 1-remote / 1-local user, 16-CPUs |
| RM-UBxx | Rack mount kit for 1U B-Chassis (xx = 19", 23", or 24") |
| RM-UCxx | Rack mount kit for 2U C-Chassis (xx = 19", 23", or 24") |
| Cable Part Number | Description |
| CAB-ZX0606Cnnn | UltraCable, PC to Switch, DB25M to VGA-PS/2 Keyboard + Mouse |
| CAB-CX0606Cnnn | UltraCable Hi-Res, PC to Switch, DB25M to VGA-PS/2 Keyboard + Mouse |
| CAB-C1Y0509Cnnn | UltraCable Hi-Res, PC to Switch, DB25M to VGA-AT Keyboard + Serial Mouse |
| CAB-CXV0800Cnnn | UltraCable, Sun to Switch, DB25M to VGA-Sun Keyboard + Mouse |
| CAB-SCX0800Cnnn | UltraCable Hi-Res, Sun to Switch, DB25M to 13W3-Sun Keyboard + Mouse |
| CAB-CXUSBCnnn | UltraCable Hi-Res, USB to Switch, DB25M to VGA-USB Keyboard + Mouse |
| CAB-R3W30606Cnnn | UltraCable Hi-Res, RS6000 to Switch, DB25M to 3W3M-PS/2 Keyboard + Mouse |
| CAB-R13W30606Cnnn | UltraCable Hi-Res, RS6000 to Switch, DB25M to 13W3M-PS/2 Keyboard + Mouse |
| CAB-S13W30606Cnnn | UltraCable Hi-Res, SGI to Switch, DB25M to 13W3M-PS/2 Keyboard + Mouse |
| CAB-RGBHV0606Cnnn | UltraCable Hi-Res, PC to Switch, DB25M to RGBHV-PS/2 Keyboard + Mouse |
| CAB-ZX0606Mnnn | UltraCable, Switch to KVM, DB25M to VGA-PS/2 Keyboard + Mouse |
| CAB-CX0606Mnnn | UltraCable Hi-Res, Switch to KVM, DB25M to VGA-PS/2 Keyboard + Mouse |
| CAB-CXV0800Mnnn | UltraCable Hi-Res, Switch to Sun KVM, DB25M to VGA-Sun Keyboard + Mouse |
| CAB-SBX0800Mnnn | UltraCable Hi-Res, Switch to Sun KVM, DB25M to 13W3F-Sun Keyboard + Mouse |
| CAB-CXVUSBMnnn | UltraCable Hi-Res, Switch to KVM, DB25M to VGA-USB Keyboard + Mouse |
| CAB-R3W30606Mnnn | UltraCable Hi-Res, Switch to RS6000 KVM, DB25M to 3W3F-PS/2 Keyboard + Mouse |
| CAB-R13W30606Mnnn | UltraCable Hi-Res, Switch to RS6000 KVM, DB25M to 13W3F-PS/2 Keyboard + Mouse |
| CAB-S13W30606Mnnn | UltraCable Hi-Res, Switch to SGI KVM, DB25M to 13W3F-PS/2 Keyboard + Mouse |
| CAB-RGBHV0606Mnnn | UltraCable Hi-Res, Switch to RGB KVM, DB25M to RGBVH-PS/2 Keyboard + Mouse |
| CAB-USDTD9FCnnn | Cable, Serial DTE Equipment to Switch, DB25M to DB9F |
| CAB-USDCD9MCnnn | Cable, Serial DCE Equipment to Switch, DB25M to DB9M |
| CAB-USDTD25FCnnn | Cable, Serial DTE equipment to Switch, DB25M to DB25F |
| CAB-USDCD25MCnnn | Cable, Serial DCE equipment to Switch, DB25M to DB25M |
| CAB-USSNMD8MCnnn | Cable, Serial Sun to Switch, DB25M to MD8M |
| CAB-CXUMXnnn | Cable, Bus Expansion Cable (Molded version) |
| CAB-CXUMHnnn | Cable, Bus Expansion Cable |
| CAB-08UTPnnn | Cable, Switch to Network Cable |