UltraVista 4K60
UHD Video Wall Controller • 4K60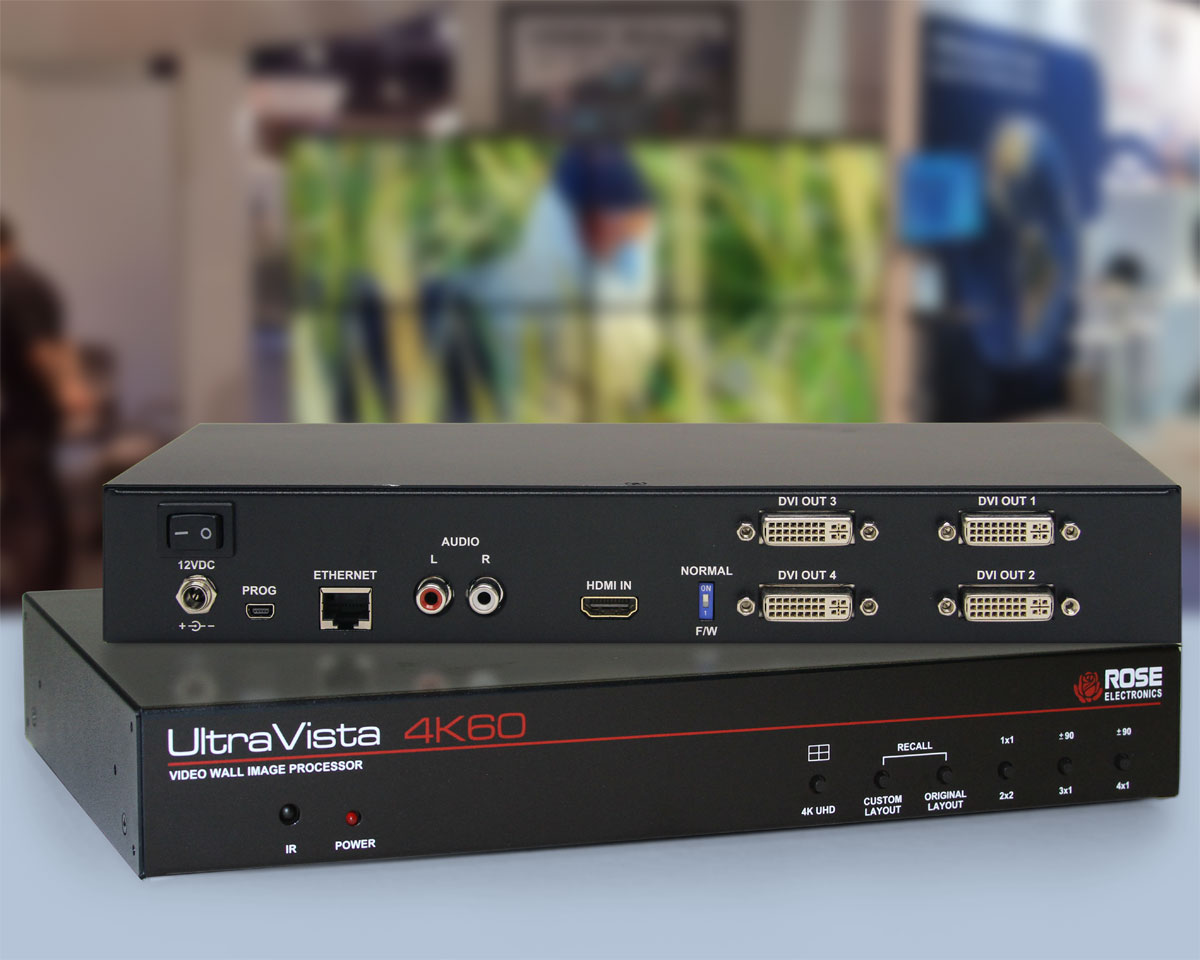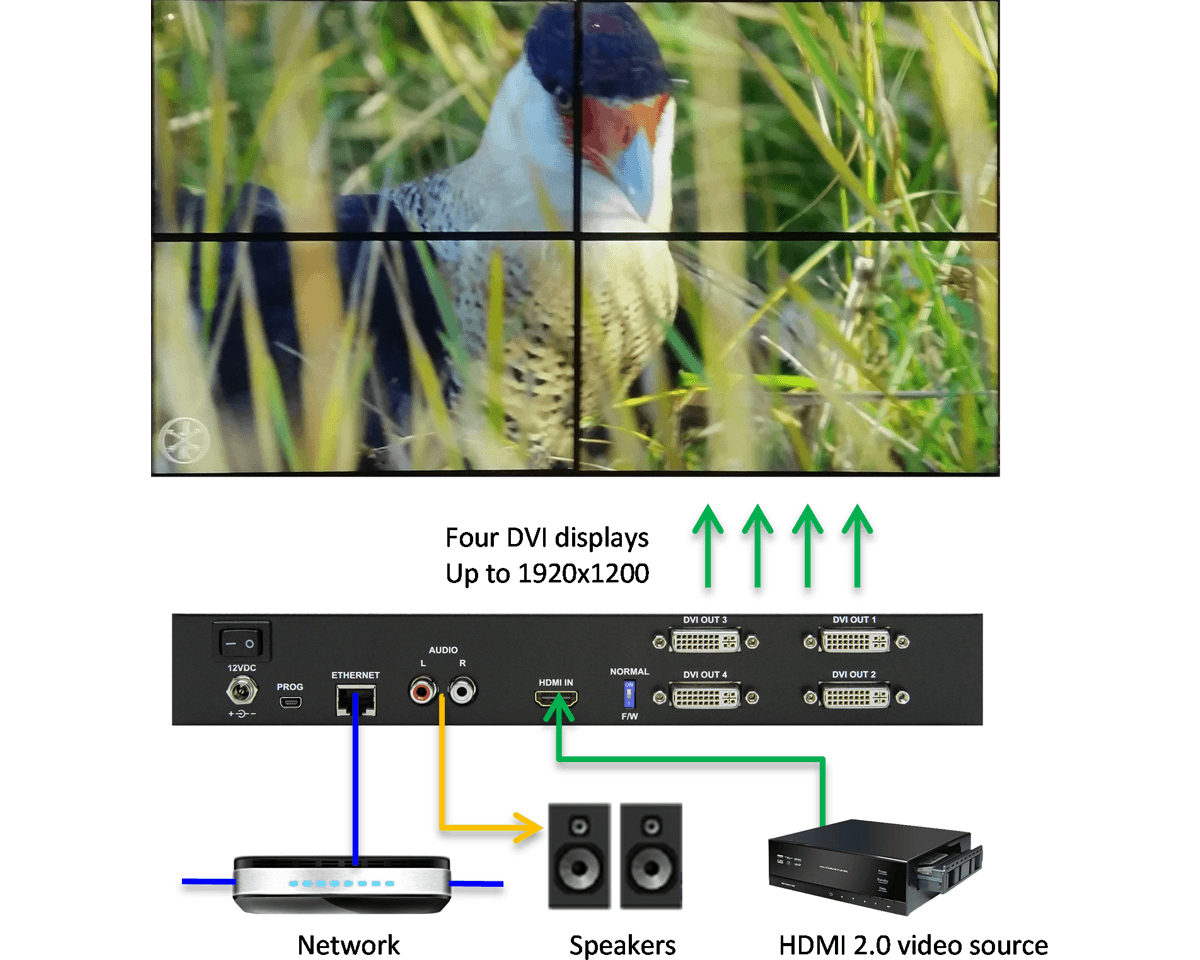 Output resolution between 640x480 to 1920x1200 in 2x2 format
Input resolution HDMI 4K2K@60Hz (YUV 4:4:4)
Each DVI/HDMI output has an independent controllable display area
Resize, position and zoom the video output
Stereo audio output is provided
Learns EDID from the default resolution table or from direct connection
Controller software is included, and software management is via either the USB or Ethernet ports
Image parameters and layouts can be saved in flash memory and recalled for later use
Supports IR remote control and is HDCP compliant
OVERVIEW
The UltraVista 4K60 is a versatile and cost effective video wall controller for use with multiple flat panel displays and projectors. With a digital video input capability of 4K2K@60Hz, the UltraVista Plus offers a powerful and flexible method of controlling high quality video wall arrays.
By utilizing the included software control program, the user can quickly and easily configure a video wall for virtually any setup including the cascading of multiple UltraVista 4K60 units for larger video wall and control desk applications.
The product has a high video bandwidth capability, ensuring that the displayed image is sharp, flicker-free and displayed as the highest possible video quality. The DVI single-link output bandwidth is up to 4.95Gbps and the HDMI output video bandwidth is from 2.25G to 6.75Gbps.
The UltraVista 4K60 can be controlled using the packaged software windows that control the zoom function with horizontal/vertical shift, and the flexibility to change pixel size.
The screen resolution and screen coordinates are selectable, including options for clockwise or counterclockwise rotation. The input and output resolutions are selectable from a drop-down menu. You can divide a screen into 3 or 4 parts (3x1 or 4x1), and then rotate parts of the divided screen. This function can be controlled using the front panel push buttons or the selectable software menu.
Note that the 4K60Hz (YUV 4:4:4) only can be displayed as a 2x2 layout (1080p@60Hz for each output).
The EDID setting can be selected, viewed and then saved using the EDID display window
SPECIFICATIONS
Dimensions (W x D x H)

11.3" x 7" x 1.7" (288 x 180 x 42 mm) (1U)

Weight

3.3 lb (1.5 kg)

Power

100-240 VAC 50-60Hz

External adapter, +12V DC, 2.0A

DVI/HDMI: 12W

Resolution

Input: Up to 4K2K@60Hz (4:2:0 10 bits)

Up to 4K2K@60Hz (4:4:4 8 bits)

Output: 1920x1080 @60Hz, 1920x1200 @60Hz

Video Bandwidth Input: Single link 600MHz (18Gbps)

Video Bandwidth Output - DVI (Single-link 4.95Gbps - HDMI (2.25G to 6.75Gbps)

Distance

Video: 25 feet (7.6m)

Connectors

Video in: HDMI

Video out: Four DVI

Power: Barrel jack

Config: RS232 DB9, RJ45 Ethernet

Controls

Status LED: Power control on front panel

Environment

Operating temperature: 32°F–104°F (0°C–40°C)

Storage temperature: -4°F–140°F (-20°C–60°C)

Relative humidity: 20%–90%, non-condensing
PART NUMBERS
| Product Part Number | Description |
| --- | --- |
| VWL-G122/4K60 | UltraVista 4K60 Video Wall Controller |
| CAB-DVIDMM006 | DVID (M/M) cable (6ft (2.0m) |
| CAB-DVIDMM010 | DVID (M/M) cable (10t (3.0m) |
| CAB-HDMIMM006 | HDMI (M/M) cable (6ft (2.0m) |
| CAB-HDMIMM010 | HDMI (M/M) cable (10t (3.0m) |
| CAB-DVIMHDMIM006 | DVI(M) to HDMI(M), 6ft (2.0m) |
| CAB-DVIMHDMIM010 | DVI(M) to HDMI(M), 10ft (3.0m) |