UltraLink E-series
KVM over 1G Ethernet • DisplayPort • USB 2.0 • Audio • Serial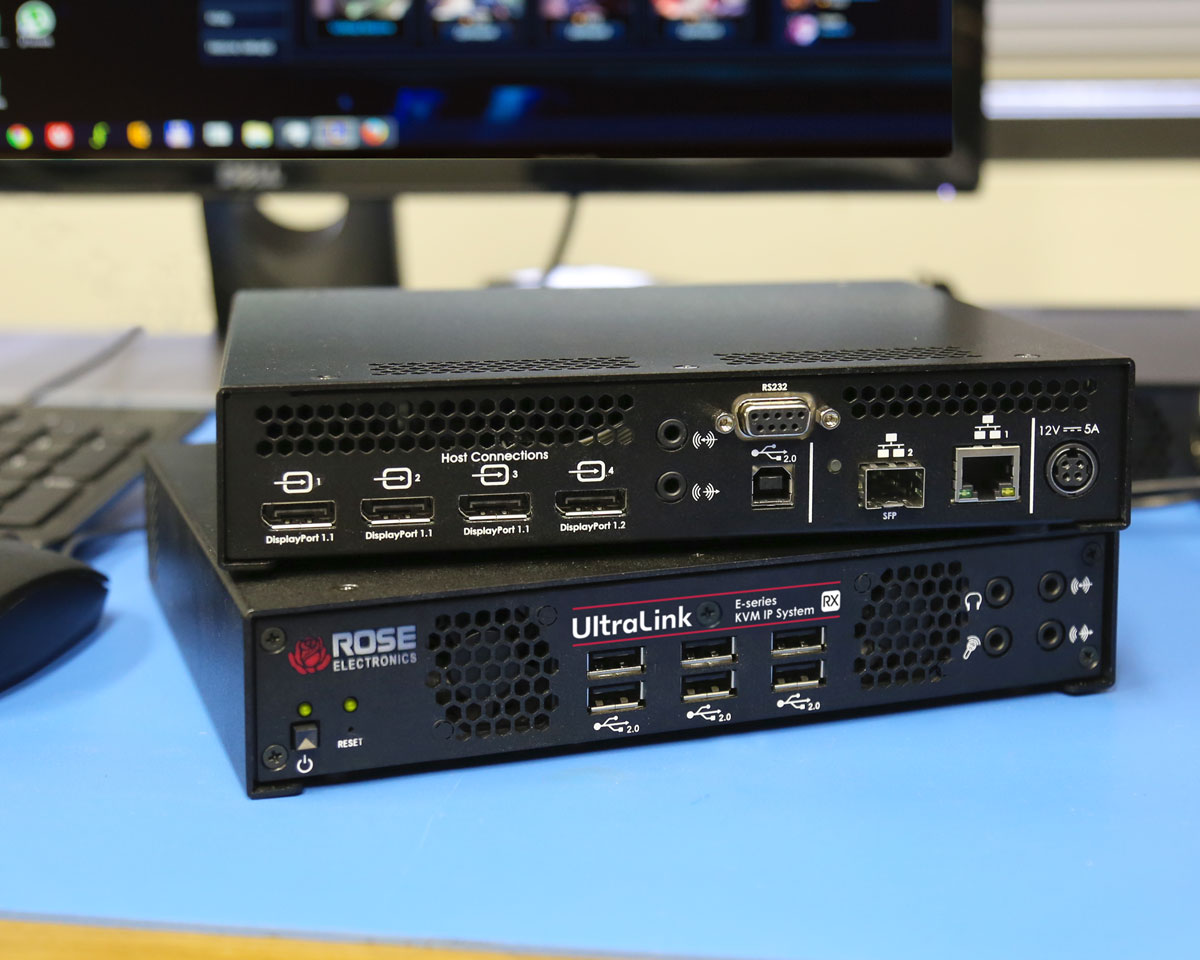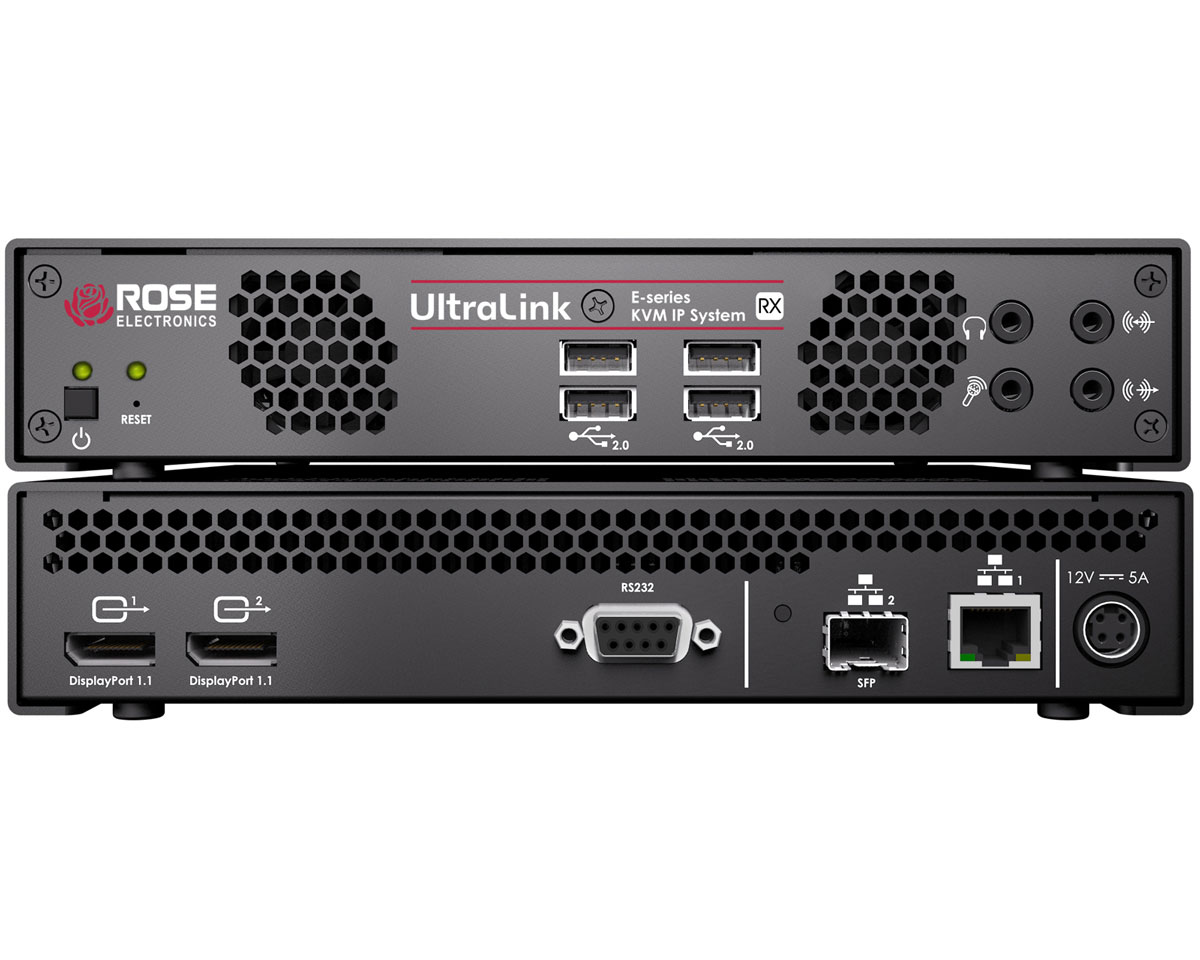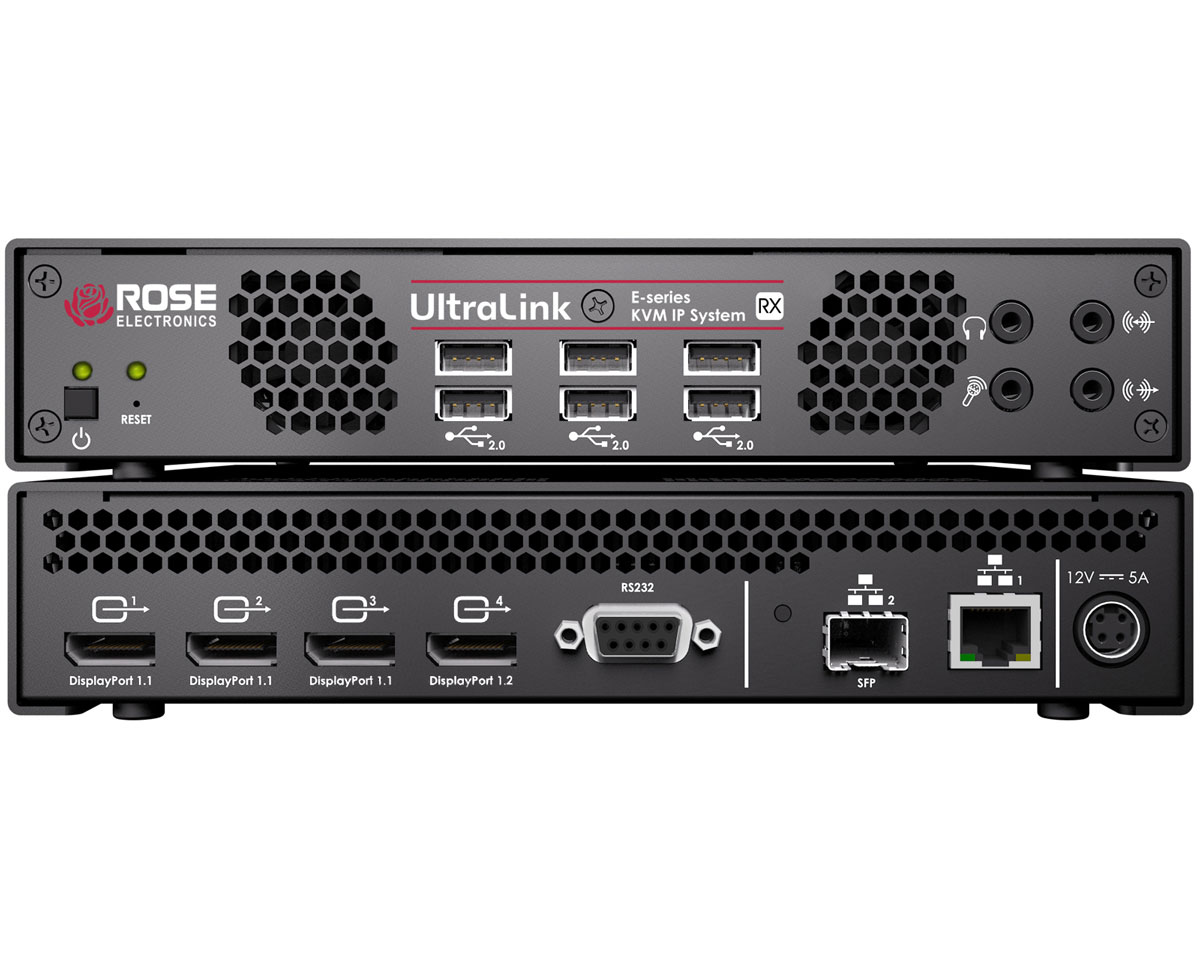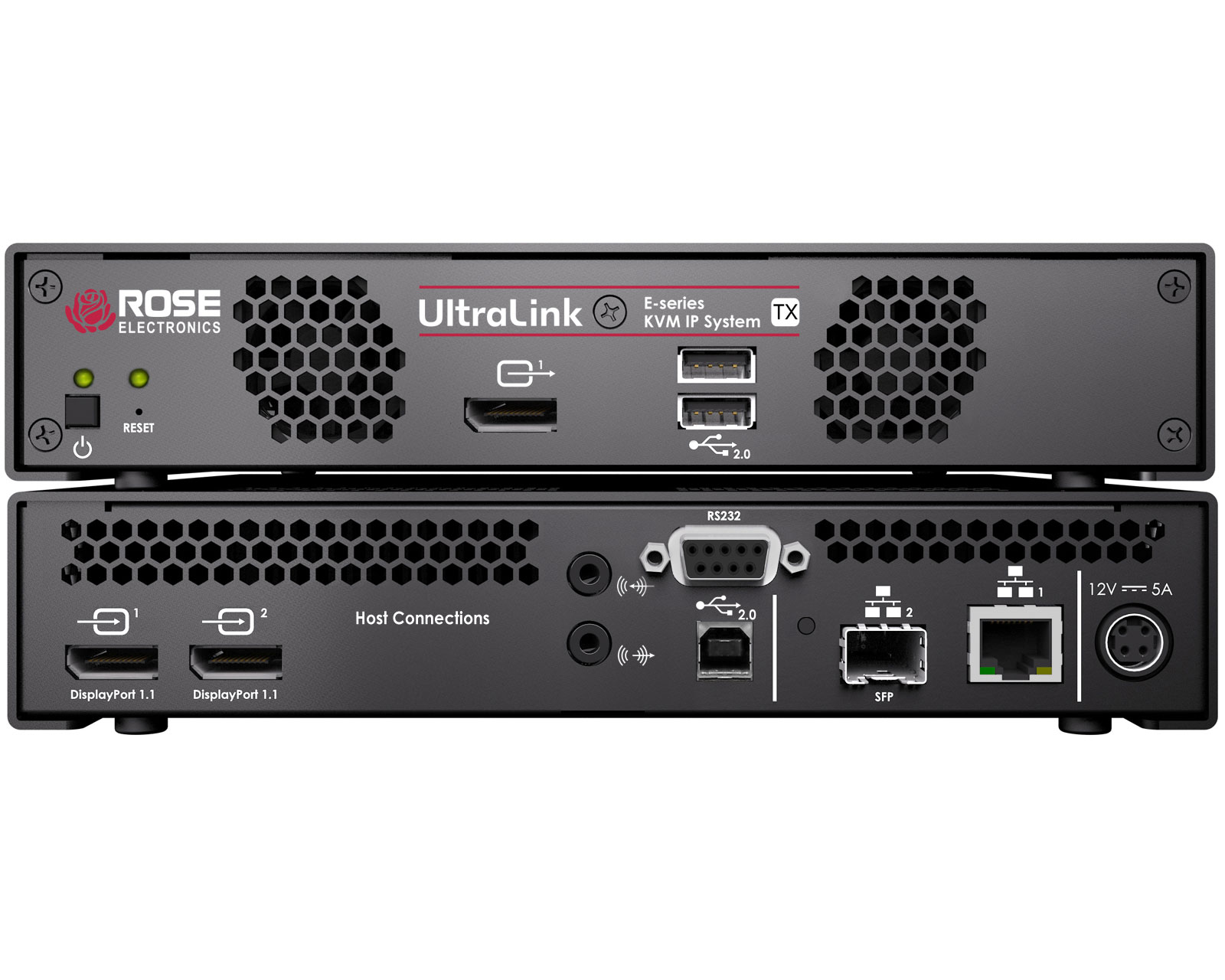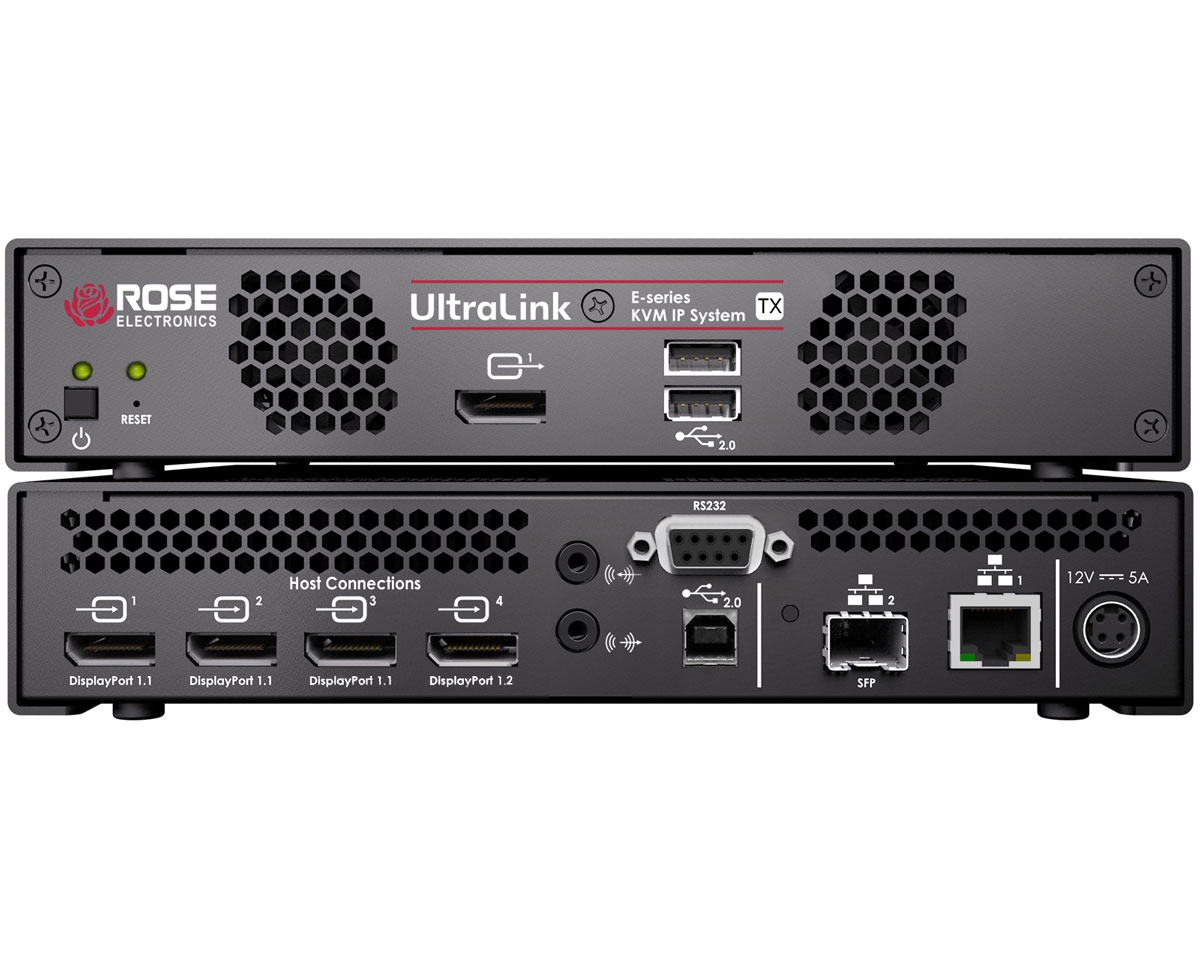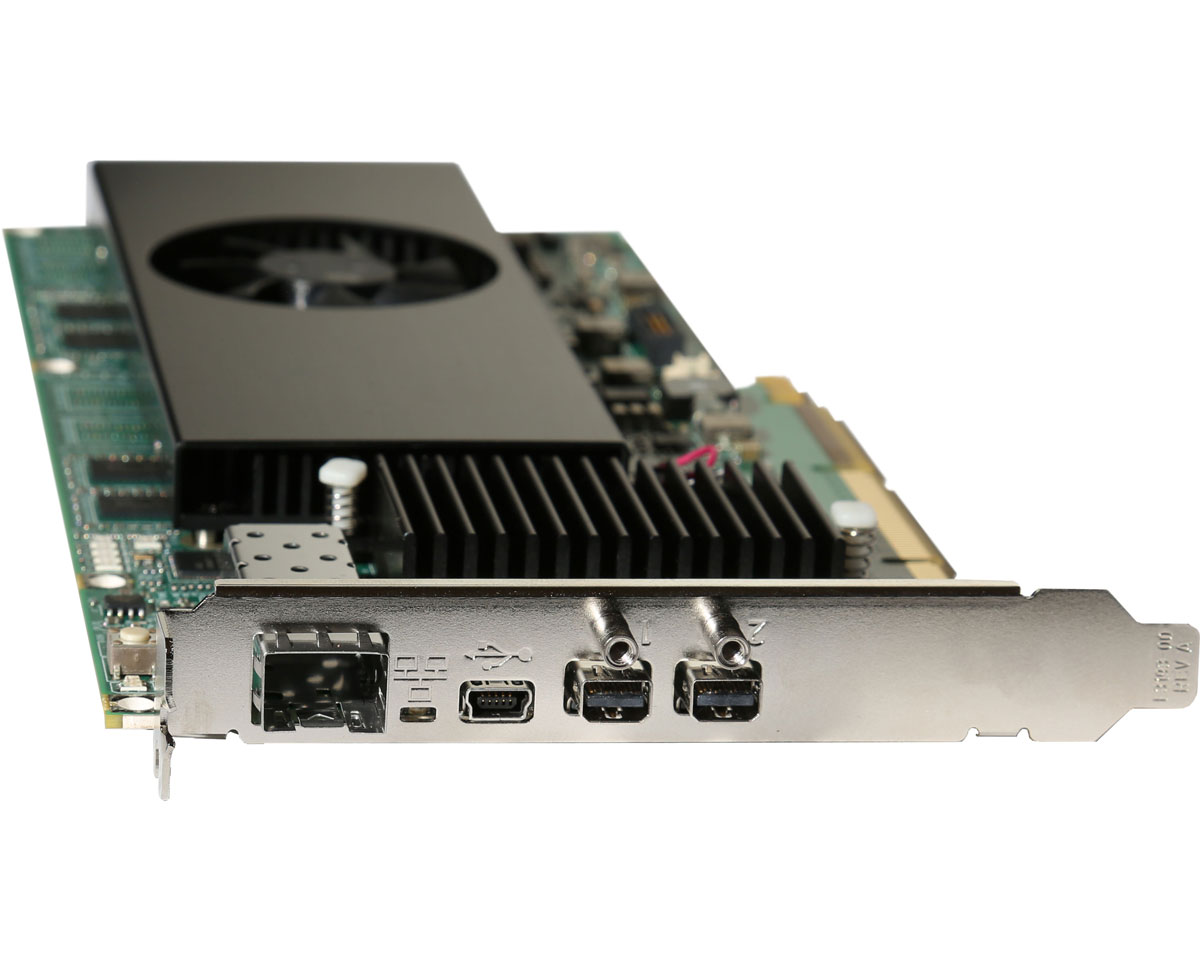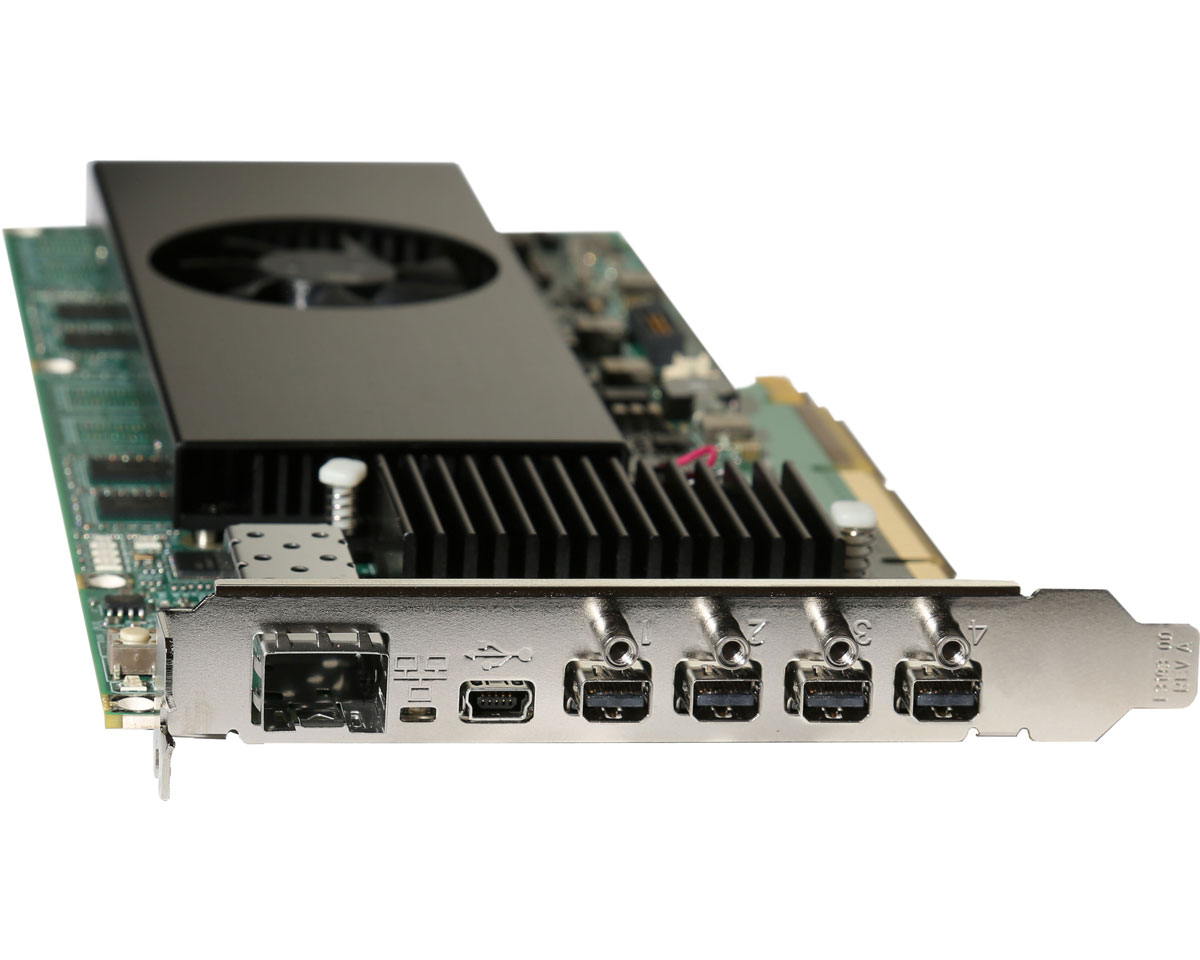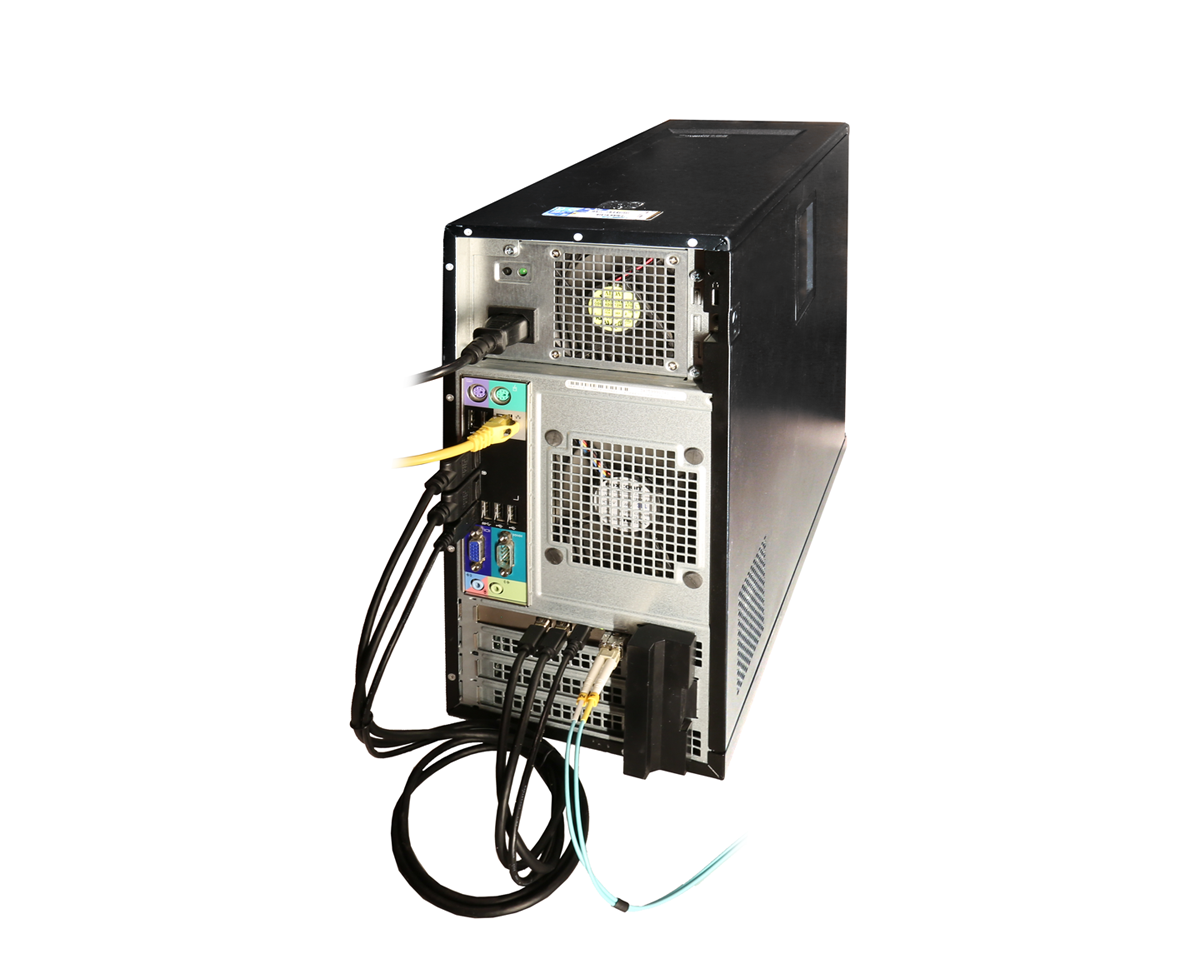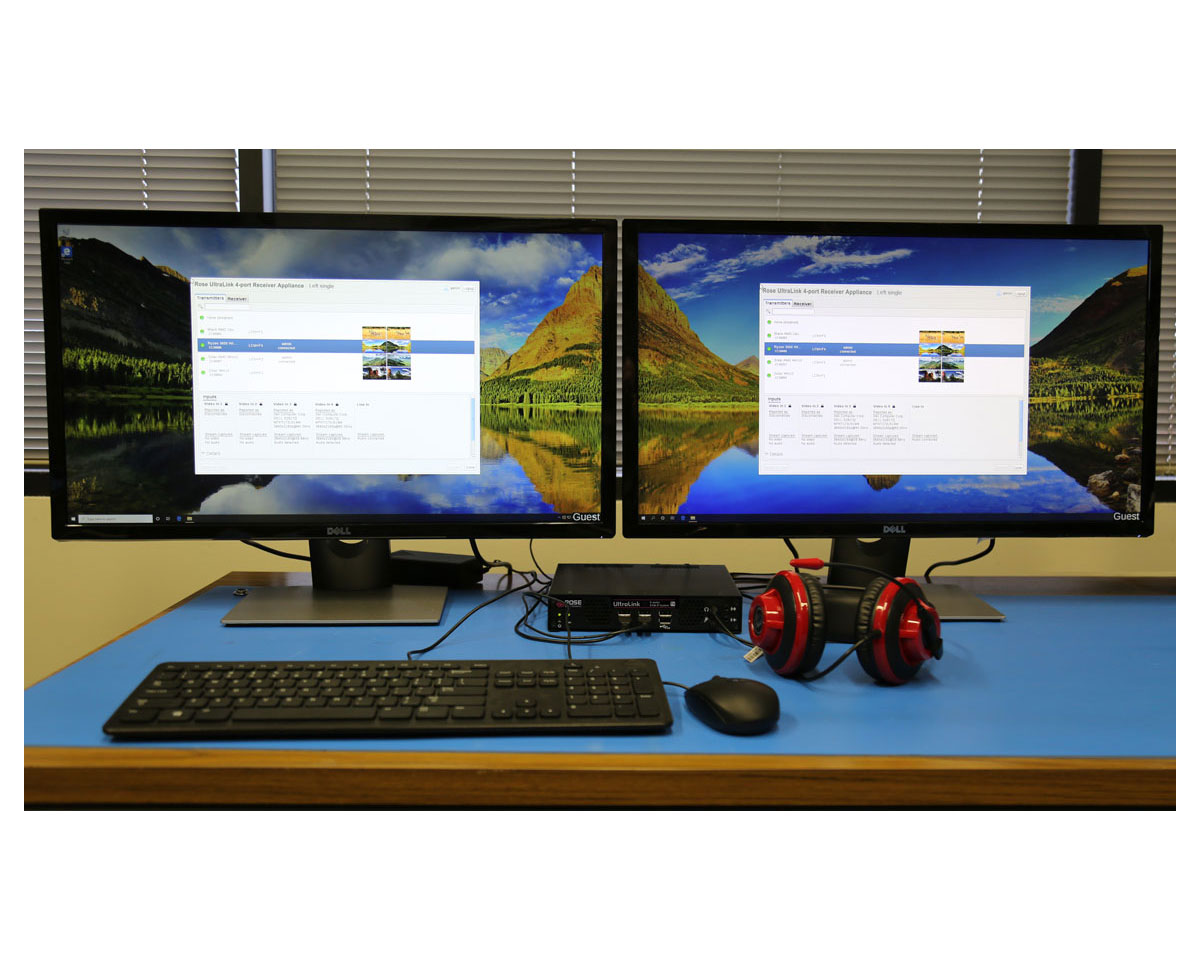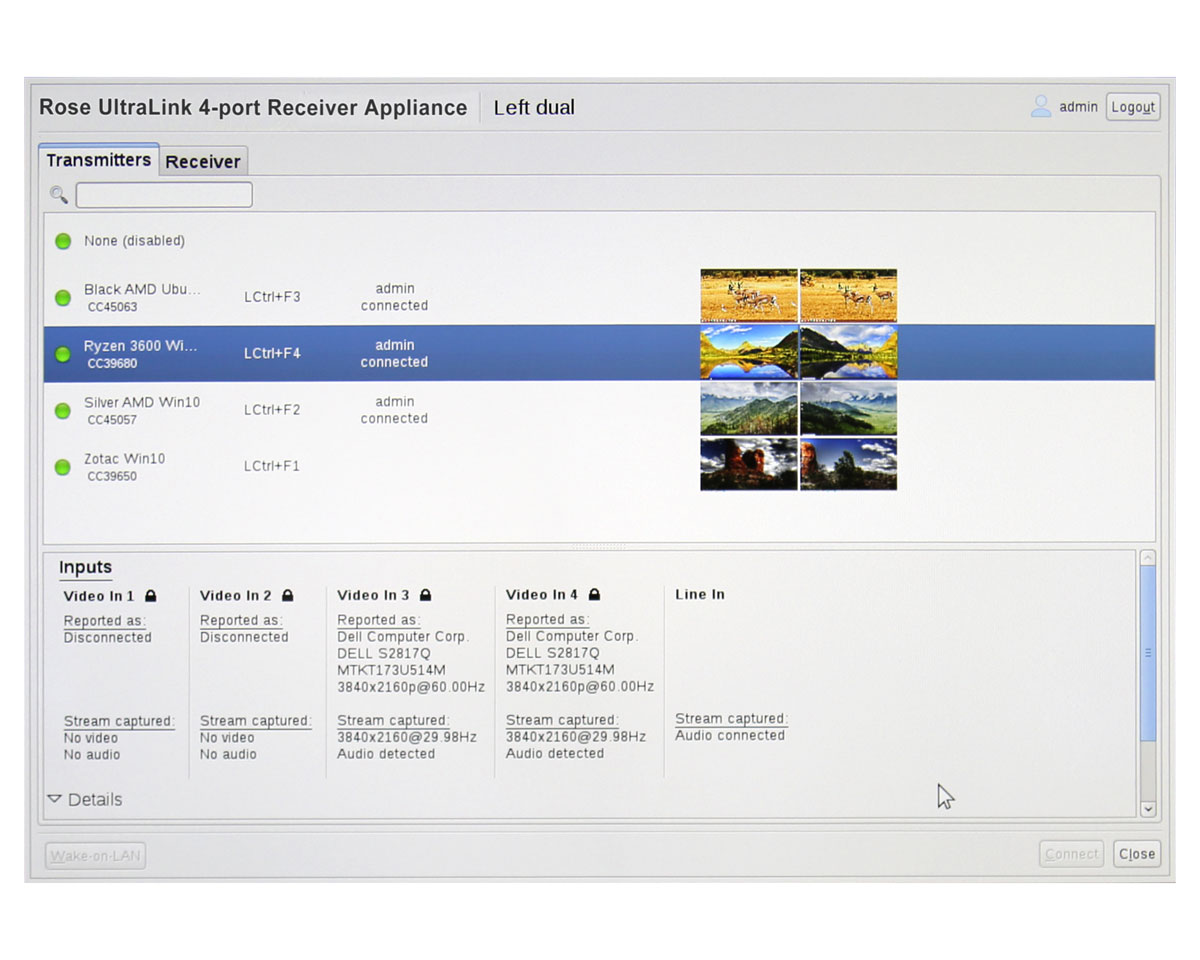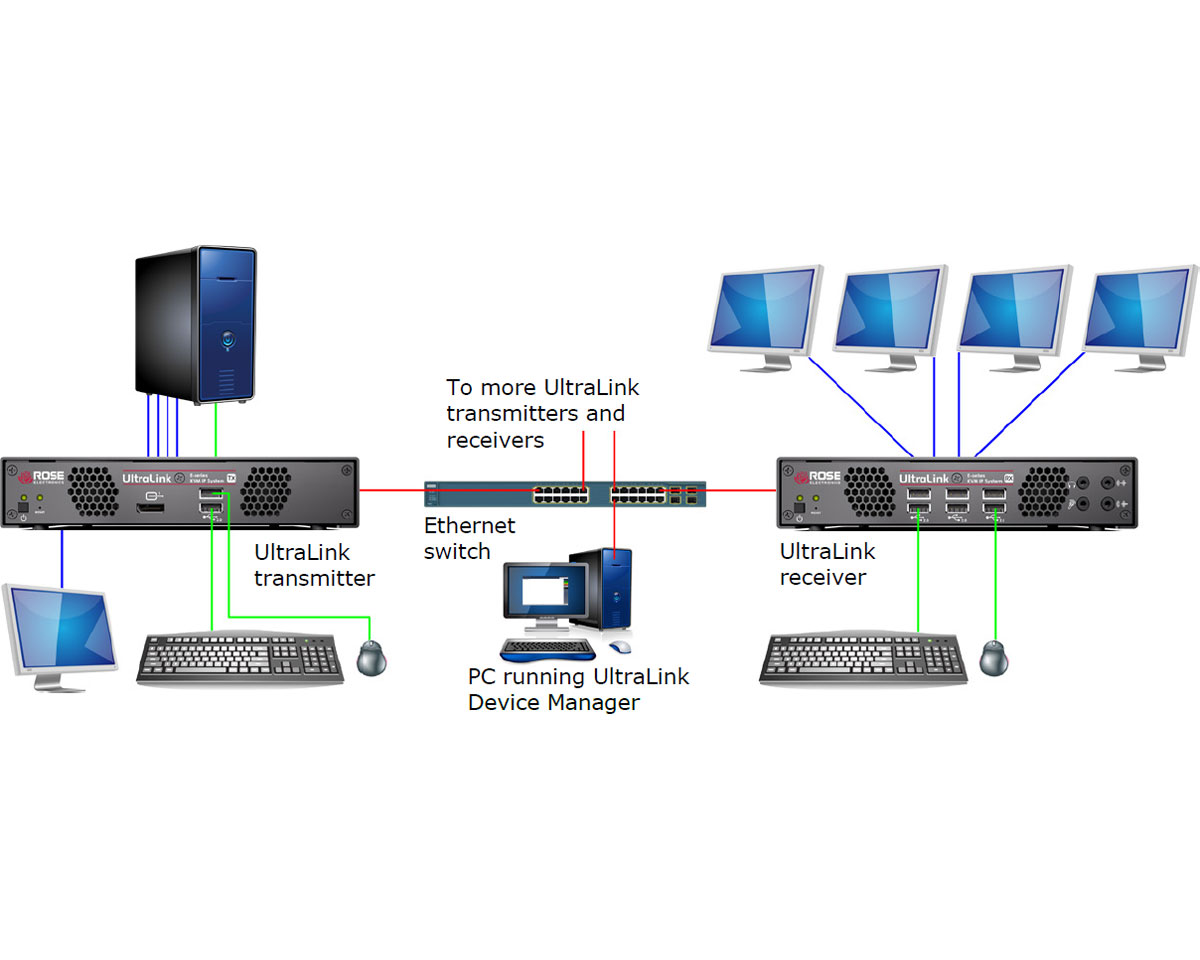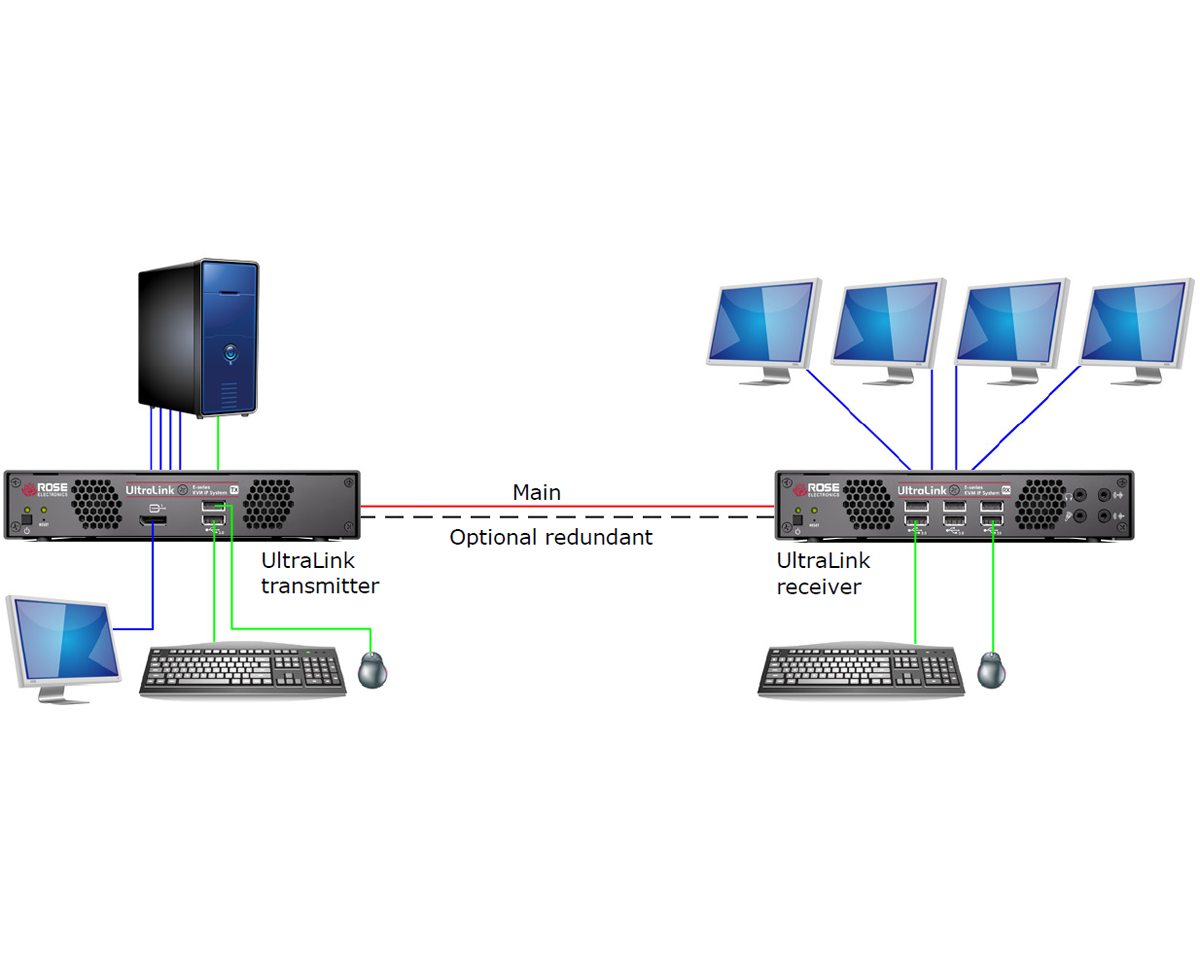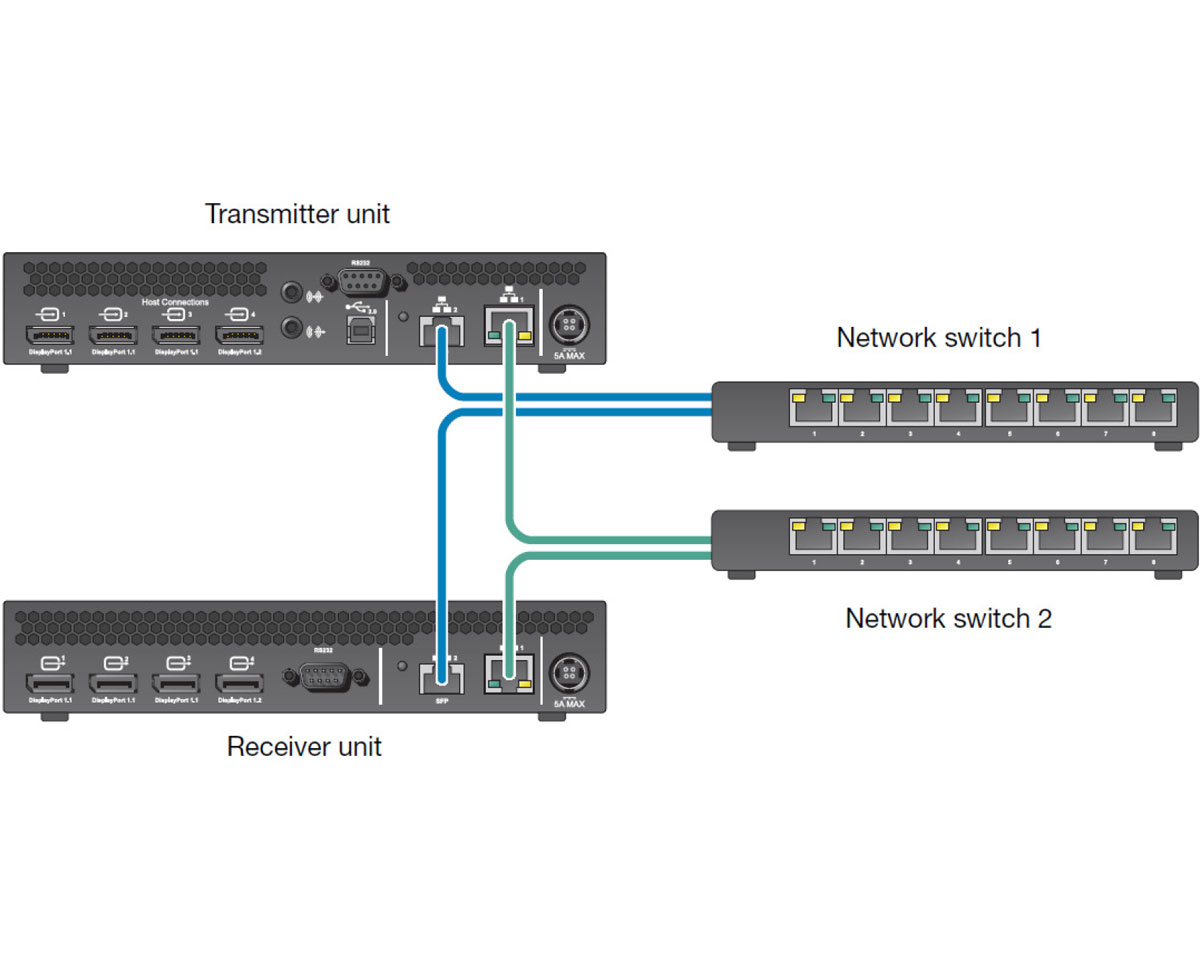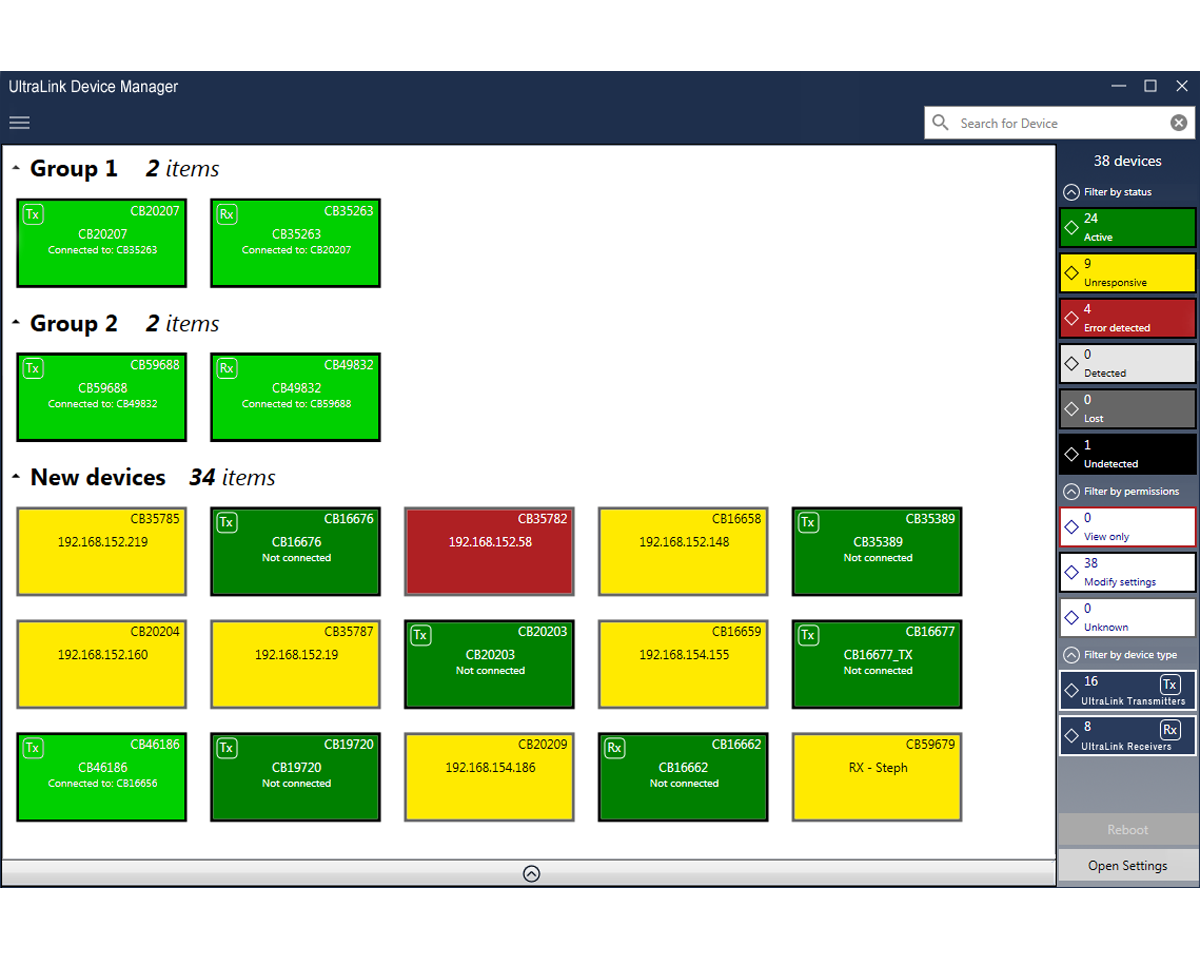 Operates over 1G Ethernet using highly optimized ultra-low bitrate encoding
Use Ethernet switch to form KVM matrix or use point-to-point as extender
Integrates with existing network and standard gigabit Ethernet infrastructure
DisplayPort video 2 and 4 port models in appliance or PCIe card form factors
Single-head 4K60, dual-head 4K30, or quad-head 1920x1200
Visually lossless video quality with seamless switching and low latency
Supports USB 2.0 devices and standard HID devices
Video and data is encrypted for increased security
Audio de-embeding from video and analog stereo
Appliance models have audio line-in, line-out, microphone, and headphone
OSD provides user login with preview function and hot keys for switching
Use mouse to seamlessly switch between computers
User access can be shared or restricted to single user only
Rose UltraLink Device Manager software for setup and remote switching
Compatible with Microsoft® Active Directory for user authentication
SNMP features support remote monitoring
Rack mount and HDMI or VGA converter options available
OVERVIEW
The UltraLink E-Series is a scalable, high-performance KVM and AV extension and switching system. Transmitter and receiver units can connect directly to one another for a point-to-point extension, or they can link to a standard gigabit Ethernet switch to form a distributed matrix switching system. Create a scalable KVM matrix over IP delivering multiple video, keyboard, mouse, USB 2.0, serial, and audio signals.
The UltraLink E-Series delivers 4K60 4:4:4 UHD video performance and multi-display capabilities at unprecedented low bitrates. The extender is capable of transmitting 3840×2160 @ 60Hz to a single display, 3840×2160 @ 30Hz to two displays (dual-head), and 1920×1200 @ 60Hz to four displays (quad-head), all over a single Cat5e or fiber cable. Cat5e cable is standard or optionally upgrade to multi-mode or single-mode fiber. This product is available in dual-display or quad-display models. The stereo output is selectable between de-embedded or pass-through analog audio.
Transmitters are also available as PCIe cards for installation inside a PC chassis. The PCIe cards have mini DisplayPort and mini USB connectors. They do not have serial or audio ports.
Rose UltraLink Device Manager software is used to remotely configure, manage, and monitor all connected devices from a central location. Through an intuitive interface, discover networked transmitter and receiver units, manage connections, and setup device parameters. Assign memorable names to units to easily identify them, and create logical groups of devices to filter views and apply settings to multiple units simultaneously. The software operates using a secure communication protocol (HTTPS) for sending commands over the network.
For remote access from a KVM station, open the on-screen display (OSD) interface to select and instantly switch between host systems. Thumbnail previews of available and authorized computers are displayed within the OSD menu.
Rose KVM extenders help to centralize hardware in a server room to increase security, protect systems against environmental hazards, and reduce system noise and heat emissions. IP based systems that utilize commercial off-the-shelf (COTS) network switches also significantly reduce the cost of purchasing a scalable KVM matrix switching solution. The UltraLink E-Series extenders are ideally suited for process control, industrial automation, healthcare, transportation, military, government, broadcasting, education, and many more applications.
SPECIFICATIONS
Dimensions (W x D x H)
Appliance models
8.53" x 7.45" x 1.68" (216.6 x 189 x 42.6 mm) (1U)
Card models
9" x 4" x 0.5" (228.6 x 101.6 x 12.7 mm)
PCIe full height 3/4 length form factor
Weight
Appliance models
5 lb (2.3 kg)
Card models
3 lb (1.4 kg)
Power
Appliance models
External adapter
 100-240 VAC 50-60Hz
 +12V, 5.0A
Typical power
 2-port TX   24W
 2-port RX   26W
 4-port TX   44W
 4-port RX   41W

Card models
From host computer
Typical power
 2-port TX   32W
 4-port TX   41W

Resolution
2-port models
Single head
 1x 2560×1600@60
 1x 3840×2160@30
Dual head
 2x 1920×1200@60

4-port models
Single head
 1x 3840×2160@60
Dual head
 2x 3840×2160@30
 2x 2560×1600@60
 1x 3840×2160@60 + 1x 1920×1080@60
Quad head
 4x 1920×1200@60

Color space
All models
YUV 444 / RGB 888

Audio
All models
DisplayPort audio de-embed to
speakers in display or analog audio

Appliance models
Transmitter
 Stereo 3.5mm analog line-in/line-out
Receiver
 Stereo 3.5mm analog line-in/line-out
 Microphone and headphone

Network
Standard
1000BASE-T Ethernet
Duplex
Half or full
Brodcast
Unicast or multicast
IPv4 Addressing
DHCP or static IP
Dual LAN redundancy
Appliance models only
SFP cage
Accepts standard SFP modules
Copper, Single-mode, or Multi-mode fiber

Included cables
Card models
USB-A to mini-B male-to-male 2 ft cable

Appliance models
USB A to B male-to-male 6 ft cable
AC power cord

Distance
All models CPU/KVM cables
10 feet (3.0m)
Appliance models RJ45 LAN
330 feet (100m)
All models SFP cage
Copper – 330 feet (100m)
Multi mode fiber – 1800 feet (550m)
Single mode fiber – 49.7miles (80km)

Connectors
2-port Transmitter PCIe Card
2 x Mini DisplayPort 1.1
1 x Mini USB 2.0 Type B
1 x Mini USB 2.0 Type B
1 x SFP Cage (copper or fiber)
PCI Express x8 electrical
PCI Express x16 mechanical

4-port Transmitter PCIe Card
3 x Mini DisplayPort 1.1
1 x Mini DisplayPort 1.2
1 x Mini USB 2.0 Type B
1 x SFP Cage (copper or fiber)
PCI Express x8 electrical
PCI Express x16 mechanical

2-port Transmitter Appliance
2 x DisplayPort 1.1
1 x DisplayPort 1.1 (local output)
1 x USB 2.0 Type B
2 x USB 2.0 Type A (local output)
1 x 3.5 mm stereo jack, line in
1 x 3.5 mm stereo jack, line out
1 x RS232 9 Pin D-Type
1 x RJ45 Network Port
1 x SFP Cage (copper or fiber)
1 x DC power jack, 4-pin mini-din

4-port Transmitter Appliance
3 x DisplayPort 1.1
1 x DisplayPort 1.2
1 x DisplayPort 1.1 (local output)
1 x USB 2.0 Type B
2 x USB 2.0 Type A (local output)
1 x 3.5 mm stereo jack, line in
1 x 3.5 mm stereo jack, line out
1 x RS232 9 Pin D-Type
1 x RJ45 Network Port
1 x SFP Cage (copper or fiber)
1 x DC power jack, 4-pin mini-din

2-port Receiver Appliance
2 x DisplayPort 1.1
4 x USB 2.0 Type A
1 x 3.5 mm stereo jack, line in
1 x 3.5 mm stereo jack, line out
1 x 3.5 mm stereo jack, speaker (out)
1 x 3.5 mm stereo jack, mic (in)
1 x RS232 9 Pin D-Type
1 x RJ45 Network Port
1 x SFP Cage (copper or fiber)
1 x DC power jack, 4-pin mini-din

4-port Receiver Appliance
3 x DisplayPort 1.1
1 x DisplayPort 1.2
6 x USB 2.0 Type A
1 x 3.5 mm stereo jack, line in
1 x 3.5 mm stereo jack, line out
1 x 3.5 mm stereo jack, speaker (out)
1 x 3.5 mm stereo jack, mic (in)
1 x RS232 9 Pin D-Type
1 x RJ45 Network Port
1 x SFP Cage (copper or fiber)
1 x DC power jack, 4-pin mini-din

Controls
Computer selection
OSD, UltraLink Device Manager program
LED indicators
Appliance models – Status, power, and network
Card models – Status and network

Switches
Appliance models – Power and reset
Card models – Reset

Environment
Operating temperature
32°F–113°F (0°C–45°C)
Storage temperature
-13°F–140°F (-25°C–60°C)
Relative humidity
5%–80%, non-condensing
PART NUMBERS
| Part Number | Description |
| --- | --- |
| ULE-RXA2 | UltraLink E-Series Receiver unit, 2 DisplayPort 1.1, 4 USB type-A, resolution up to 1080p/60 4:4:4 |
| ULE-RXA4 | UltraLink E-Series Receiver unit, 3 DisplayPort 1.1 and 1 DisplayPort 1.2, 6 USB type-A, resolution up to 4K/60 4:4:4 |
| ULE-TXA2 | UltraLink E-Series Transmitter unit, 2 DisplayPort 1.1 (in), 1 DisplayPort 1.1 (local out), 1 USB-B (input), 2 USB-A (local), resolution up to 1080p/60 4:4:4 |
| ULE-TXA4 | UltraLink E-Series Transmitter unit, 3 DisplayPort 1.1 and 1 DisplayPort 1.2 (in), 1 DisplayPort 1.1 (local out), 1 USB-B (input), 2 USB type-A (local), resolution up to 4K/60 4:4:4 (3840×2160) |
| ULE-TXC2 | UltraLink E-Series PCIe Transmitter card, 2 Mini DisplayPort 1.1 (in), 1 USB 2.0 Type Mini-B, resolution up to 1080p/60 4:4:4 |
| ULE-TXC4 | UltraLink E-Series PCIe Transmitter card, 3 Mini DisplayPort 1.1 (in), 1 Mini DisplayPort 1.2 (in), 1 USB 2.0 Type Mini-B, resolution up to 4K/60 4:4:4 (3840×2160) |
| ULE-UDMxxx | UltraLink E-Series Device Manager software where xxx is version |
| RM-ULE2 | Rack-mount shelf (for 2 Appliances side-by-side) and mounting kit |
DOCUMENTS
| DOCUMENT | LINK |
| --- | --- |
| Datasheet • UltraLink E-series | PDF |
| Manual • UltraLink E-series • Hardware • Installation and Operation | PDF |
| Manual • UltraLink E-series • Device Manager Software • Installation and Operation | PDF |
| Software • UltraLink-Device-Manager-Setup-3.01.msi | MSI |
| Software • UltraLink-Device-Manager-Setup-3.01.zip | ZIP |